The Canary Islands: Europe's sunshine
Less than a four-hour flight from the main European capitals, the crystalline waters, the heavenly white sand beaches, and the year-round spring temperatures of the "Fortunate Islands" await you. You can enjoy all this and more any time of the year, where everything is especially designed for your pleasure. Forget the cold and come to the Canaries: we will be waiting with open arms.
Visiting the Canary Islands takes you into a magical world filled with the miracle of nature. A year-round temperature of 22 degrees allows you to enjoy a splendid tourist infrastructure. Hotels, tourist complexes, water parks, and facilities for water sports dot its 1,500 kilometers of coastline, offering a wide range of leisure options. The seven islands differ greatly in landscape and environment, but are alike in the quality of their beaches – many of which have been awarded an EU blue flag – and a climate which gives no ground to bad weather. Long sandy beaches, coves, and cliffs offer visitors all they will need to enjoy a few days beside the Atlantic.
Beaches for all tastes
Fuerteventura has the largest beaches in the archipelago. Turquoise waters caress kilometers of white sand beaches, the majority of which are untouched and deserted. For its part, Lanzarote is a land of chromatic contrasts. Coves set between cliffs offer the chance to bathe nude, and its black sands are truly unique. A visit to Gran Canaria should not be missed. Enjoy such beautiful spots as the Maspalomas Dunes, the fishing port of Mogán and the Andén Verde Cliffs.
The south of Tenerife offers extensive sand beaches with calm waters, suitable for the whole family. Places such as Las Américas, Los Cristianos, Los Gigantes, and the Costa del Silencio are known internationally for their warm temperatures and friendly people. The sheer cliffs and dark beaches of El Hierro, La Palma, and La Gomera, meanwhile, open up to the sea. Fishing ports and small coves, often with natural pools, are their distinguishing features.
Nature's generosity has given the Canary archipelago not only a subtropical climate and a volcanic landscape, but also excellent conditions for water sports. In this respect, the Canary coasts offer the latest in water sports facilities and marinas for sailing, water-skiing, kayaking, and surfing. But it is windsurfing which attracts one of the largest groups of enthusiasts to the island year-round. Continuous trade winds and mild island temperatures make this an unbeatable spot for lovers of the sport. El Médano on Tenerife, Jandía on Fuerteventura and Pozo Izquierdo on Gran Canaria all stand out due to their exceptional conditions. They are also the setting for world windsurfing championships.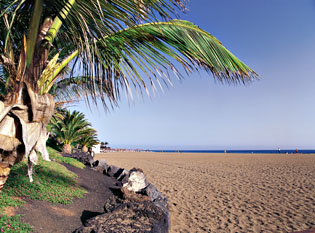 Those who come to enjoy the sun and sand will discover that the Atlantic holds even more surprises in store. Among these are the marvelous ocean depths, displaying the archipelago's volcanic origins. Snorkeling and scuba diving attract a number of enthusiasts, who delve into the island waters to explore the underground caves, cliffs, and crevices which are impossible to find in any other place.
Culture and Nature
However much leisure interests may attract visitors, we should not forget that the Canary Islands possess incredible historical and cultural heritage. This is a land of mixed races, a stopover on the voyage to conquer America. Its cities are deeply rooted in the guanche civilization (the ancient inhabitants of the island), but also include Andalusian, Portuguese, and American influences.
Their historic quarters contain any number of colonial structures. An excellent example is San Cristóbal de La Laguna (Tenerife), which has been declared a UNESCO World Heritage Site. The marvelous artistic legacy left by César Manrique on the island of Lanzarote is also of great interest to visitors. Jameos del Agua, Mirador del Río, and Jardín del Cactus are all must-sees.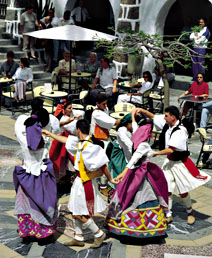 For nature lovers, numerous paths cover the main protected areas, including the Cañadas del Teide (Tenerife), Timanfaya (Lanzarote), Caldera de Taburiente (La Palma), and Garajonay (La Gomera) national parks. These routes will lead us to forests of laurisilva (a botanical relic of the Tertiary Era), volcanic landmarks, and seas of clouds 2,000 meters in the air. Nor should we neglect to mention that the islands of El Hierro and La Palma are both biosphere reserves, and that the island of La Gomera has been declared a World Heritage Site.