Spanish Recipes
Sign up for our newsletter!
Featured
Spanish Recipes Search
Spanish Regional Cuisine
Spanish Coasts and Beaches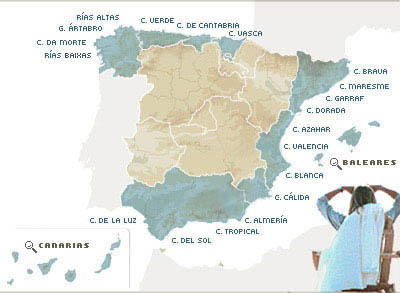 Costa Brava, Costa del Sol, Costa Verde, Costa da Morte, the Balearic Coast, and the Canarian Coast are some of the coasts that form the Spanish littoral. These historical beaches combine waterside fun with mountain activities, and invite the visitor to explore the beautiful seabed, the ideal setting to discover all the treasures that await in the Spanish littoral, whose reefs form multicoloured breakwaters that are bathed in sunlight at all times.
The sand, caressed by salty waves, is watched by numerous fortresses that stretch along the entire coast; a littoral that is coveted and missed by those who love the sea, the sun, the gorgeous light, and history itself. In short, the Spanish littoral is an unforgettable, dynamic strip, always open to everyone who wishes to explore its most precious spots.
If you want to learn more on Spain's best Coasts and beaches, see our dedicated sections: