Baked Rice
Arroz al horno
This recipe is typical of home-cooking in the Marina Alta comarca in Alicante province--although you find slightly different versions all over Levante.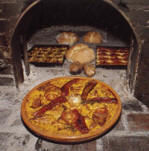 It's also sometimes called arroz passejat, meaning rice that has gone for a walk--because it was taken to the baker's oven for cooking. Until recently, this was always made with the Bomba rice grown behind Denia, which gave the grains a firmness and much greater texture.
Ingredients
1 lb 2 oz Bomba rice
1/2 cup olive oil
1 lb 6 oz mixed chicken and rabbit joints and lean pork, on the bone and cut into small chunks
1 red pepper
3 ripe tomatoes, 1 grated and 2 halved crossways
7 oz garbanzo beans, soaked for 12 hours in cold water
1 head of garlic
Salt
About 1 quart water
Preparation
Heat the oil and fry the pieces of meat until they are golden. Add the red pepper, cut into three or four pieces, and the grated tomato. This may be done ahead of time.
Heat the oven to high. Bring the water to boil. In a 2 1/2 quart capacity casserole, make a bottom layer of the Bomba rice mixed with saffron; next put in the meat fried with the tomato; then the garbanzo beans arranged between the pieces of meat. Pour over the boiling water (using slightly less if the dish is not made of earthenware).
On the top, put the whole head of garlic in the middle and, around it, the red peppers and the remaining two tomatoes, halved crossways. Check for salt and put the dish in the center of the oven for 25 minutes. It should simmer slightly and may appear to be dry earlier, but will need the full cooking time. Leave to rest for 15 minutes.
See also...
Of the two types of classic short grain rice grown in Calasparra, Bomba is the supreme strain.
Until recently, many feared that the strain would become extinct. Bomba had all but disappeared from the land because it requires intensive care in order to flourish. Fortunately, alert gourmet chefs created a demand, so that today Bomba is once again available for the pleasure of discriminating food lovers.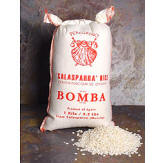 The basic difference between Bomba rice and others is that Bomba expands in width like an accordion rather than longitudinally, as do other rice strains. It differs from Italian Arborio rice, which is bred to be creamy, and Asian rice, which is meant to be sticky. Bomba absorbs three times its volume in broth (rather than the normal two), yet the grains remain distinct.
If you plan to develop a rich and flavorful broth for your paella, Bomba rice will show your skill to its best advantage. It is totally free of all pesticides, herbicides, etc. No chemicals of any kind are added during processing
Bomba is an ancient strain of rice that matures very slowly. It is grown in fresh mountain water around the town of Calasparra in Murcia. Bomba rice produces an exceptionally dehydrated grain when it is harvested, because it has taken such a long time to mature. This enables it to absorb 50% more broth than is the case with the ordinary rices we are accustomed to.
When you are making paella, this is just what you want to bring uniform flavor to your creation. This is why Bomba is the correct choice when only the best of the best will do. Each bag is individually numbered by the producer.