Spanish Dessert Recipes and Sweet Treats
Spanish Desserts
Many of Spain's best-known desserts are smooth, creamy, rich custards - fashioned from the country's high quality milk and eggs - such as flan, crema catalana, and tocino de cielo. The latter, along with crumbly cookie-like polvorones; various yemas, or egg-yolk confections; and other sweets, were once widely made by nuns, who sold their products to help maintain their convents. Many of the recipes relied heavily on egg yolks, which the nuns received free from the winemakers who needed only the whites to clarify their sherries and red wines. Today, fewer religious orders sell these centuries-old delicacies, though some convents in cities and towns in Andalusia, Castilla y León, and elsewhere are keeping the tradition alive.
Of course, such classic tarts as the almond-flavored técula mécula, which dates to the early sixteenth century, and the mint-laced flaó, a specialty of Balearic cooks, rely on eggs and dairy as well, as do wonderfully rich ice creams and a variety of cheese desserts, including greixonera de brossat and quesadas - all of them satisfying finales to a meal.
Breakfast and Merienda
But Spanish sweet treats do not restrict themselves to desserts. The long, slender, crisp fritters knon as churros are irresistible treats that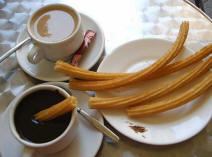 never appear on a dessert menu., but are eaten for breakfast all over Spain. Majorcan ensaimadas, fluffy pastry coils that are sometimes plain and sometimes filled with preserves or cream, are also enjoyed as the first meal of the day. Both the fritters and the pastries are eaten for merienda, the Spanish teatime, too, serving as perfect midafternoon pick-me-ups in anticipation of the long wait for Spain's legendary late dinner hour.
Andalusia is famous for its mermelada de naranja ácida, yet another breakfast-table favorite. The marmalade, made form the region's bitter Seville oranges, is delicious spread on the day's first bread. In contrast, the popular, mildly floral-tasting preserve known as carne de membrillo, or quince paste, is typically served after dinner with Spanish cheese, with a slice of each placed together on a plate. Apart from these two - orange marmalade and membrillo - Spaniards enjoy the products of their rich agriculture all year-round with excellent fruit preserves, such as raspberry, apricot, plum, strawberry, or wild blackberry.
Our Spanish Dessert Recipe Selection
At Spain-recipes.com we've selected some of the best Spanish Dessert recipes (well, at least our favorites;-). We've tried to gather the different styles - due to the diversity of climates and products available in each Spanish region - to give you a short -and sweet!- tour of Spain, its people, and its culinary culture.
Below, you'll find a selection of some of the most popular Spanish dessert recipes, collected with the unique goal of delivering you the true essence of Spanish gastronomy.
Pestiños (Sweet fritters): No seas pestiño means "don't get on my nerves". But while making pestiños is not nerve-racking, you do need to pay attention when both mixing and frying. These crunchy fritters are popular in Andalusia, where cooks fry with passion.
Empanada de manzana (Spanish Apple pie): Though empanadas are most often thought of as savory pies, they can also be made of fruits and served as a dessert or for merienda (teatime). For the best results, I recommend using tart, slightly acidic apples for this recipes.
Brazo de gitano: This recipe is from my grandmother. She used to prepare it on special occasions, and all the family gathered to enjoy it. Despite it has an small amount of liquor (rum), it's ok for kids, and you will find them asking for another slice!
Churros:

Although churros are by no means exclusive to Madrid, they may have originated here. No open-air festival would be complete without its churrería stall, or at least a hawker wearing white cuffs and carrying a basket of freshly-fried fritters.

Almond Ice Cream: Whether served with ensaimadas or alone, this ice cream makes a perfect dessert.
Gató d'ametlla: This Majorcan cake is believed to have originated in Valldemossa, the island town made famous by Chopin and George Sand, who spent a winter together there in an abandoned Carthusian monastery that today draws many visitors. This version, a recipe from one of our friends, is the best that I have ever tasted
Flaó: Flaó is similar to American cheesecake, but the use of mint leaves and aniseeds sets it apart and makes it particularly refreshing. It calls for requesón, a fresh milk cheese, also known as Quark, and though you can easily make your own, I have also obtained spectacular results using the more readily available cream cheese.
Arbequina Olive Oil Ice Cream on a Hojiblanca Oil Cake:

The Hojiblanca oil that is the basis for most oils from Malaga is the perfect ingredient for this cake. Arbequina oil is preferable for the ice cream because it is sweeter and has a nutty flavor that perfumes the creamy egg mixture.

Almond Cakes:

The cake and pastries made in Spanish convents are famous for their delicacy, the result of careful preparation and traditional methods. Many of the recipes, a legacy of the Arab presence in Spain, wisely combine almonds with honey and eggs and were brought to the convents by nuns who had learnt them in their homes.

Magdalenas: Magdalenas are small sweet cakes that are rich-tasting, but light and fluffy. The Spanish traditionally eat them at breakfast with café con leche, and they are said to have originated in Aragón.
Strawberry Flan: This rich dessert is a variation of the traditional Spanish dessert called "Flan." Instead of vanilla, this flan is flavored with fresh strawberries.
Bizcochos Borrachos (Drunken sponge cakes): Light spongy cake, drizzled with a sweet sauce of brandy, lemon and cinnamon. It is a wonderful light dessert to complete a Spanish dinner. These "bizcochos" are the perfect accompaniment to a hot cup of Spanish coffee or hot chocolate on a cold morning or for afternoon tea.
Flan Recipe: This is the classic flan, which is as light and delicious as it is timeless. This basic flan recipe is also used to make flans of different flavors by substituting another liquid for part or all of the milk. For example, the best sweet oranges in Spain come from Valencia and Murcia, and an orange flan, made from freshly squeezed juice, is popular there.
Torrijas: a traditional bread pudding eaten in Easter
Leche frita: A dessert made of milk, egg and flour. A non-conventional dessert very easy do make!
Crema Catalana: Because of its crisp, caramelized topping, this creamy Catalan dessert is often compared to the French crème brûlée. Sweet Catalan cream, however, is not as heavy or rich as its French cousin, and thus makes a more pleasant ending to a heavy paella dinner.
Cinnamon Ice Cream: This is a classic dessert in Spain. Although ice cream is not eaten at home, summer dinners many times end up at an 'Heladería' (ice cream stand) where Spaniards eat this one!
Tocinillo de cielo: Created in the early years of the last century, when wineries from Jerez de la frontera donated the leftover egg yolks of the clarification (the egg whites are used to clarify the wine) to the nuns. These, with divine success, mixed them with syrup and they treated to the bath Maria, thus was born tocinillo de cielo... God blesses them!
Tarta de Santiago (St. James' Cake): A traditional cake from northern Spain. The tarta is dense and rich in flavor and is well-known in Santiago, Spain as a delectable treat used to lure passers-by into restaurants or cafés.
Orange cake: Orange cake is a typical dessert recipe from Valencia, where the best oranges are produced. Orange cake is very easy to prepare, and will become an instant success when you offer it to your family or guests!
Ensaimada: A Majorcan favorite, ensaimadas are warm, yeast-based cakes fashioned into round, coiled shapes. Although delicious, these cakes are time-consuming to prepare, because the dough must be allowed to rise several times.
Arroz con leche: Some say that Arroz con Leche descends from the Moorish occupation of Spain centuries ago, as may be evidenced by the traditionally Arabic mixture of cinnamon and rice. This creamy dessert may be savored warm or cold, though most Spanish establishments tend to serve arroz con leche straight from the oven. If you wish, you may decorate the finished pudding with raisins and an extra sprinkling of cinnamon.