Bizcochos borrachos
Light spongy cake, drizzled with a sweet sauce of brandy, lemon andcinnamon. It is a wonderful light dessert to complete a Spanish dinner. These "bizcochos" are the perfect accompaniment to a hot cup of Spanish coffee or hot chocolate on a cold morning or for afternoon tea.
Makes 1 8-inch cake or 9 small servings.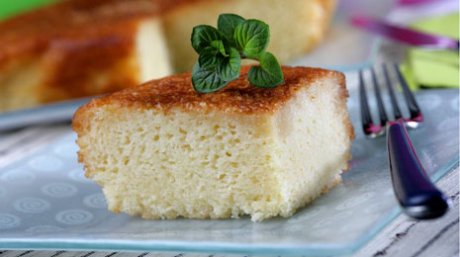 Ingredients
4 Eggs
1/2 cup Granulated Sugar
3/4 cup Flour
1 tsp Baking Powder
1 tsp Ground Cinnamon for Decoration
For the Sauce:
1/3 cup granulated Sugar
8 oz. Water
1.5 Tbsp Honey
1 1/2 oz. Brandy or Rum
1 Cinnamon Stick
1/2 Lemon zest
Preparation
Preheat the oven to 350 degrees Fahrenheit or 180 degrees Centigrade. Generously grease a 8-inch square cake pan with vegetable shortening, then flour it.
Separate the yolks from the egg whites.
Then, beat the egg yolks in a bowl with the sugar until it forms a creamy mixture.
In another mixing bowl, beat the egg whites until they are stiff enough to form a point. Fold in the yolk mixture with a spatula, smoothly and carefully.
Fold in the baking powder and flour gradually, a bit at a time.
Pour in the batter and bake for 20 minutes, or until it turns golden. Check doneness by inserting a toothpick into the center. If it is clean when pulled out, cake is done.
While the cake is baking, make the syrup. In a small sauce pan, pour water and sugar, cinnamon, honey and lemon peel. Bring mixture to a boil, stirring occasionally. Allow to boil 1 minute. Remove from heat and add the brandy and allow the syrup to cool.
After the cake has cooled, carefully cut into 9 pieces and place them on a serving plate. Drizzle the pieces of cake with the brandy sauce and then dust the top with cinnamon. Serve with coffee or tea.
You may be also interested in...