Spanish Poultry, Meat, and Game Recipes
Spanish cooks readily draw on a broad palette on poultry, meats and game for the everyday table, just as their ancestors have for centuries. Chickens and stewing hens (the latter older, larger birds known as gallinas, that are becoming ever-more rare these days) are prepared all over Spain. Roasted chickens are regularly served in every corner of the country, but other dishes such as the pepper-rich pollo al chilindron of Aragon and the saffron-tinted escabeche de pollo of Extremadura, a Christmas tradition, have strong regional moorings. Rabbit is also popular, prepared either simply with a sauce, or as an ingredient in one  of the many rice dishes of Valencia.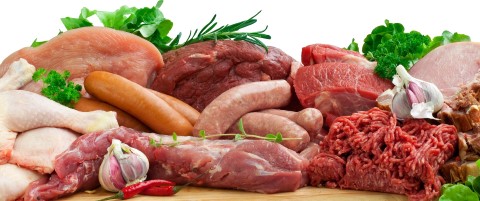 Pork and lamb
Pork shows its grandeur in cochinillo asado, suckling pig traditionally seasoned with nothing more than salt and sometimes a little garlic and roasted in a wood-burning oven. No other pork roast can compete with its savor. Baby lamb (ideally the Churra breed) and baby goat are also roasted in old-fashioned vaulted ovens, and every village in northern and southern Castile boasts at least one place that specializes in roasting all of these exquisite meats.
Cordero asado - Roasted Lamb: This recipe serves 8-10 people with one half of a lamb, weighing 9-11 pounds. Lamb in the USA is generally very large, since the most popular cut seems to be leg of lamb and we slaughter lambs that are much older than it is customary to do in Europe. So, if you are unable to buy a suckling lamb through your local butcher, purchase a leg of lamb (bone-in). 
Cochinillo asado: You'll find this dish served all over Spain, but it is typically Castilian. Segovia, famous for its Roman aqueduct, is also well known for its wonderful cochinillos, or "suckling pigs," which many local establishments specialize in roasting to perfection. Throughout Castile, most cities and even small villages also have restaurants that serve cochinillos to the delight of residents and tourists alike. 
Preserved meats
A traveler in Spain will also discover pork simmered in milk in Murcia, combined with New World corn in Canary Islands, and preserved in various ways, including lomo de orza of Andalusia, in which pork is cooked with seasonings and then buried in lard in an earthenware crock. Other conserved meats are common as well, such as the cecina of Leon, thin strips of beef that are salted and smoked and then air dried, and the famed lacon, salted pork, of Galicia. In the past, Castilian herdsmen typically packed this preserved specialty for sustenance on long cattle drives.
Lomo de orza - Preserved pork loin: An orza is a large earthenware, jarlike container with a round opening at the top. Traditionally, it has been used to preserve foods in lard, especially pork after the yearly matanza, or "slaughtering". The advent of refrigeration has made orzas nearly obsolete, but the wonderful flavor of this dish will make you want to return to the past. You can use an earthenware crock or similar container in the absence of a classic orza. And don't be concerned about the large amount of lard, as the bulk of it is used only to prevent spoilage. 
Lacon con Grelos - Boiled Ham with Greens: In  Galicia, the meat used for this recipe is the lower portion of the front pork leg, or hock, and it's salt cured. I prepare it with fresh hocks, and it's also delicious. Grelos, or turnip greens, are tender when young, usually during the winter, which is when this dish is normally eaten. Galician chorizo sausages, which are slightly hot, are a perfect partner to the ham and greens. 
Spanish steaks
Cattlemen in Castile and Galicia raise the best beef in Spain, and both regions claim a number of first-rate breed grazing on local pasturelands. Spaniards everywhere are quick to order grilled beef steaks from these local producers, especially in Basque asadores, or steakhouses, where diners invariably find them cooked to perfection. Sometimes these quickly cooked cuts are dressed up with a sauce, such as in the Asturian solomillo de buey con salsa de Cabrales, filets mignos with a creamy blue cheese sauce.
Game recipes
Galicians and Castilians are great hunters as well, as reflected in such signature Castilian dishes as galianos, which combines rabbit, hare, partridge, and shards of unleavened bread. But so, too, are many Andalusians, who enjoy carne de monte, venison cooked in wine and vinegar, and Aragonese, who  marry venison with pine nuts and raisins in a tasty ragout.
Perdiz escabechada: As you leave behind the famous plains of Castilla-La Mancha and head south, you reach the Sierra Morena, which leads into neighbouring Andalusia. This large, mountainous area is a haven for hunters, who come for the partridges, among other game. La Carolina, a town in the area, has a hotel and restaurant called La Perdiz, which is renowned for its partridge dishes, including the birds prepared en escabeche. This recipe echoes a dish served there.
Morteruelo is a rich and ancient dish from Cuenca, a province of Castilla– La Mancha, east of Madrid. It is a pâtélike spread of game meats, usually served during winter on toasted bread. 
Casqueria
Spaniards are also universal in their appreciation of such variety meats as kidney, heart, liver, tongue, and trotters, although Madrid residents are arguably their greatest champions. Sometimes eschewed in the past by the rich but always on the tables of the poor, such meats are now eaten by everyone in Spain - further proof of the inclusive palette of the Spanish cook.
Chanfaina de Salamanca (Salamanca's Sunday Rice): The city of Salamanca, with its monuments built of golden sandstone, is home to one of Europe's oldest universities. While the city itself needs no introduction, this ancient and unusual dish does. Chanfaina is usually served on Sundays as a tapa at the city's bustling bars, where parents go with their children for a little snack before returning home for lunch. 
You may be also interested in...
See also
Ultimate Spanish Feast Gift Box:

Give the gift of a full tapas party in a box! Sharing small plates of delicious tapas is a great way to bring family and friends together. This beautiful gift box features our favorite sausages, snacks, treats and desserts, each one a customer favorite. No preparation is needed, just open and serve! In just a few minutes your friends and family will be enjoying the best that Spain has to offer.

Serves 10 to 12 people
Solomillo de Buey con Salsa de Cabrales: More than two dozen distinct types of cheese are made in Asturias, among them two deservedly celebrated blues, Cabrales and Valdeón. Either one can be used for this quick but elegant beef dish.
Solomillo de Cerdo Mudéjar: The term mudéjar is used for Muslims— and for their culture— who converted to Christendom during the Reconquista. The use of pork in this dish illustrates the degree to which the mudéjares assimilated the culinary customs of their Christian neighbors. Accompany the tenderloins with mashed potatoes. 

Cochino con Millo - Pork Roast with Corn: This recipe originated on the island of Lanzarote. It calls for millo, Canarian for "corn", evidence of the early influence of New World foods on this way station for the Conquistadores. It also uses basil, which is unusual for Canarian cooking, despite the fact that it grows wild alongside the roads. 
Gallina en Pepitoria (Braised Hen in Almond Sauce): This dish has its origins in Aragon and in neighbouring Navarra, though it is highly valued in other parts of the country as well. Most people serve it on festive occasions, but I don't wait for a special day, since it is both easy to prepare and delicious, especially wedges of fried bread served alongside. 
Pollo al Chilindron: In Spain, La Ribera is the area between Navarra and Aragon where the Ebro River flows, creating fertile lowlands that are cultivated with some of the country's best vegetables. This productive region is where chilindrones, everyday preparations of chicken or lamb braised in a mixture of peppers, tomatoes, jamon, onion, and garlic, are among the most popular recipes.
Pollo en Escabeche: Cooking chicken with escabeche is ideal for the summer, when you want to prepare a dish ahead of time. It is a simplified version of the traditional escabeche, and the process couldn't be easier. You can keep this dish refrigerated for a few days and then serve it cold or at room temperature. A green salad is a good accompaniment. 
Pollo Campurriano: A dish from farming country inland from Santander. Well-powdered with paprika, the chicken is fried, then cooked with ham and peppers, and served with rice.