Perdiz Escabechada
Partridge Marinated in Wine and Vinegar
As you leave behind the famous plains of Castilla-La Mancha and head south, you reach the Sierra Morena, which leads into neighbouring Andalusia. This large, mountainous area is a haven for hunters, who come for the partridges, among other game. La Carolina, a town in the area, has a hotel and restaurant called La Perdiz, which is renowned for its partridge dishes, including the birds prepared en escabeche. This recipe echoes a dish served there. Some poultry dealers carry fresh partridges, or you can order them frozen by mail.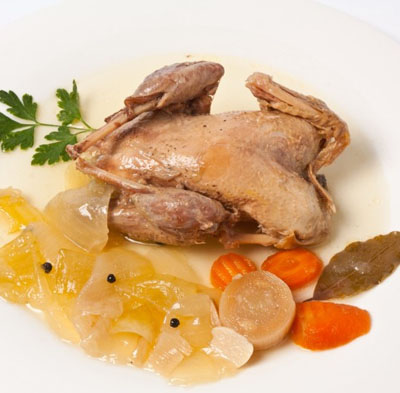 Ingredients
6 partridges, about ¾ pound each 
Salt 
½ cup olive oil 
3 yellow onions, thinly sliced 
2 carrots, peeled and thinly sliced 
4 cloves garlic, halved 
1 cup white wine vinegar 
½ cup dry white wine 
½ cup water 
10 black peppercorns 
1 teaspoon sweet pimentón  
2 bay leaves 
1 thyme sprig
Preparation
Rinse the partridges inside and out and pat dry with paper towels. Season with salt and truss the birds, tying the legs to the bodies with kitchen string.
In a large cazuela, heat the olive oil over high heat. When the oil is hot, add the partridges and cook, turning as needed, for about 5 minutes, or until evenly browned on all sides. Add the onions, carrots, and garlic and fry with the birds for 5 minutes longer, or until the vegetables begin to soften.
Add the vinegar, wine, water, peppercorns, pimentón, bay leaves, and thyme and bring to a boil. Decrease the heat to low and cook for 1 to 1 ½ hours, or until the birds are tender.
Remove from the heat, let cool to room temperature, and serve. Or, cover and refrigerate and serve cold.
You may be also interested in...
See Also
Escabeche, or escabechados, are foods that are fried or steamed and then cooked or sometimes just stored in a mild brine. They can turn up as tapas or main courses and served cold or at room temperature.

Castilla-La Mancha recipes: Located almost in the centre of mainland Spain, Castilla la Mancha and its cuisine is a very appreciated discovery for the traveller. The cuisine of this region is comprised of a great variety of traditional, hearty yet simple dishes which are prepared using elementary ingredients such as bread, meat, vegetables and accompanied by a wide range of wine, sheep's cheese and desserts, transporting the diner back to the era of Don Quixote and his faithful Sancho. 
Poultry, meat, and game recipes: Spanish cooks readily draw on a broad palette on poultry, meats and game for the everyday table, just as their ancestors have for centuries