Lacon con GRELOS
Boiled Ham with Greens
In  Galicia, the meat used for this recipe is the lower portion of the front pork leg, or hock, and it's salt cured. I prepare it with fresh hocks, and it's also delicious. Grelos, or turnip greens, are tender when young, usually during the winter, which is when this dish is normally eaten. Galician chorizo sausages, which are slightly hot, are a perfect partner to the ham and greens.
Start this recipe the day before you plan to serve it if you are using cured hocks, as they need to soak for 24 hours.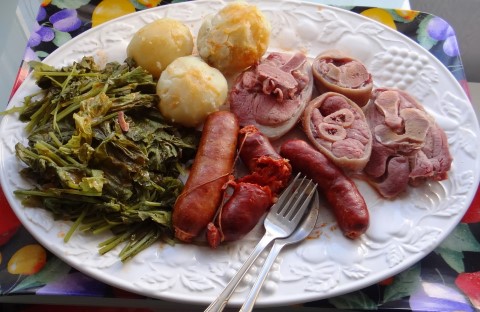 Ingredients
3 pounds salt-cured or fresh ham hocks or fresh ham on the bone (in a single piece)
1 salt-cured or fresh pork ear (optional)
2 pounds turnip greens or kohlrabi greens, coarsely chopped
5 or 6 (3-pound) chorizos
2 pounds boiling potatoes, peeled and cut into big chunks
1 tablespoon lard (optional)
Preparation
If using cured hocks and cured pig ear, soak them in cold water to cover for 24 hours in the refrigerator, then drain. If using fresh hocks, fresh ham on the bone, or fresh pig ear, disregard this step.
In a stockpot, combine the hocks and the pork ear with water to cover and bring to a boil over high heat. Skim off any foam that forms on the surface, decrease the heat to medium-low, and cook for 2 hours, or until the meat begins to loosen from the bone. Add water if necessary to keep the meat covered with water at all times.
Lift the hocks and ear from the pot, reserving the liquid in the pot, and set the meat aside in a warm oven. Bring the liquid to a boil over high heat. Add the greens, decrease the heat to medium, and cook for 5 minutes. Add the chorizos, potatoes, and lard, if using, and cook for about 30 minutes or until the potatoes are tender.
Drain the contents of the pot, discarding the liquid. Cut the meat from the hocks and the chorizos into small pieces and arrange them on a serving platter. Surround the meat and sausages with the potatoes and greens. Serve hot.
You may be also interested in...
See also
Galicia recipes: Its cuisine is one of the main tourist attractions of Galicia: the exquisite delicacies of this region are based on the high quality and variety of the local products used in the preparation of dishes. Country, farm and sea products are unique in their characteristics and quality. Furthermore, it cannot be forgotten that one of the main pillars of Galician cooking is the professionalism of its experts. Galician chefs are found world-wide.
Poultry, meat, and game recipes: Spanish cooks readily draw on a broad palette on poultry, meats and game for the everyday table, just as their ancestors have for centuries