Cordero Asado - Roast Lamb
This recipe serves 8-10 people with one half of a lamb, weighing 9-11 pounds. Lamb in the USA is generally very large, since the most popular cut seems to be leg of lamb and we slaughter lambs that are much older than it is customary to do in Europe. So, if you are unable to buy a suckling lamb through your local butcher, purchase a leg of lamb (bone-in).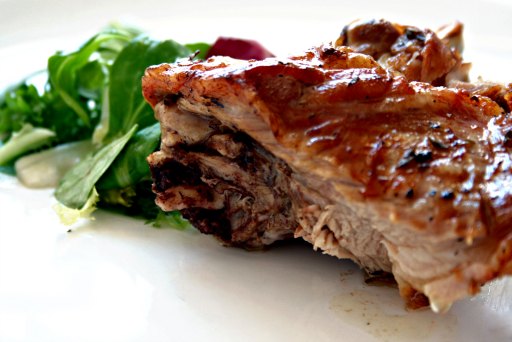 Ingredients
1/2 Suckling Lamb approximately 9-11 lbs.
6 oz. lard

Salt
Preparation
In a small sauce pan, heat the lard until it melts. If you prefer, use a small bowl and heat in microwave oven. Heat oven to 400F.
Rinse the lamb and pat dry. Trim off excess fat and discard.
Place lamb in roasting pan or other oven proof dish. (Traditionally, the Spanish use large, open clay dishes.) Rub the lamb with salt and baste with the melted lard. Place in oven to roast. Occasionally baste with large and turn until lamb is golden brown on the outside and meat is tender.
Roast potatoes are a great accompaniment to this dish. To roast potatoes, peel 8-10 small potatoes and cut in half. Place in the roasting pan around the lamb. Baste with large when you baste the lamb.
The amount of time that the lamb spends in the oven will depend on how thick the piece(s) of meat are. A good rule of thumb for a bone-in leg of lamb at 400F is to allow about 30 minutes roasting time per pound of lamb.
You may be also interested in...
See also...
Aragon has inherited its rich gastronomy from the different cultures which have passed through the region over the centuries. It knows how to exploit its local products and today its cuisine is described as classical. The great geographical diversity of this region has given rise to top quality products which are as varied as the land's orography.