Cochinillo asado
Roasted Suckling Pig
You'll find this dish served all over Spain, but it is typically Castilian. Segovia, famous for its Roman aqueduct, is also well known for its wonderful cochinillos, or "suckling pigs," which many local establishments specialize in roasting to perfection. Throughout Castile, most cities and even small villages also have restaurants that serve cochinillos to the delight of residents and tourists alike. One of my favorite places to go for this delicacy in Madrid is Restaurante Botín, whose owner is a true master of this roasting art.
In the United States, it can be difficult to find a pig the size of a typical cochinillo, which is only six to seven pounds. More readily available are pigs three to four times that size, destined for outdoor pig roasts. But a good butcher should be able to obtain a pig small enough to be roasted in the oven. The search is worth the trouble! The little pigs are easy to prepare and so tender that they practically fall apart when cooked, yielding succulent meat that can never be replicated with a larger pig. The tender, crispy skin, lined with a very thin layer of baby fat, is eaten like potato chips. I serve this dish with nothing more than a simple green salad.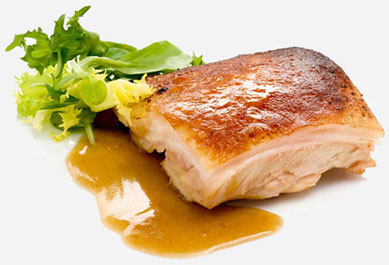 Ingredients
1 (6- to 7-pound) suckling pig 
Salt 
2 cups water 
1 clove garlic, thinly sliced 
2 tablespoons lard or olive oil
Preparation
Position 1 rack in the middle of the oven and a second rack in the upper third of the oven and preheat to 400 ° F.
Place the pig, back side up, on a cutting board. Using a heavy knife, cut it in half along the backbone, stopping just short of cutting all the way through, so that it will lie flat like an open book. Season the pig generously on both sides with salt. Place the pig, skin side down, in a large roasting pan and place on the middle rack in the oven. Roast the pig for 1 hour, adding ½ cup water to the pan every 15 minutes.
In a small bowl, mix together the garlic and the lard. After the pig has cooked for 1 hour, remove it from the oven and increase the oven heat to 450 ° F. Being careful not to burn yourself, turn the pig skin side up and rub it with the garlic and lard mixture. Return the pig to the top rack of the oven and roast for about 30 minutes longer, or until the skin is golden brown and crisp.
Remove the pig from the oven, then transfer the pig to a cutting board. Strain the pan juices through a fine-mesh sieve held over a small saucepan and heat gently on the stove top. Cut the pig into serving pieces and arrange on a warmed platter. Spoon the pan juices over the pig and serve immediately.
You may be also interested in...
See also
Ultimate Spanish Feast Gift Box:

Give the gift of a full tapas party in a box! Sharing small plates of delicious tapas is a great way to bring family and friends together. This beautiful gift box features our favorite sausages, snacks, treats and desserts, each one a customer favorite. No preparation is needed, just open and serve! In just a few minutes your friends and family will be enjoying the best that Spain has to offer.

Serves 10 to 12 people
Castilla-Leon is the largest of the Spanish Autonomous Regions. It is comprised of nine provinces which share flavours and tastes but conserve their own traditions. Traditions of huge historical and artistic richness which are gastronomically reflected, together with Extremadura and Castilla la Mancha, in its nickname "España del Asado" (Spain of the Roast). Without a doubt, Castilla-Leon is best known for its roast suckling pig and lamb. 

Poultry, meat, and game recipes: Spanish cooks readily draw on a broad palette on poultry, meats and game for the everyday table, just as their ancestors have for centuries