CHANFAINA DE SALAMANCA
Salamanca's Sunday Rice
The city of Salamanca, with its monuments built of golden sandstone, is home to one of Europe's oldest universities. While the city itself needs no introduction, this ancient and unusual dish does. Chanfaina is usually served on Sundays as a tapa at the city's bustling bars, where parents go with their children for a little snack before returning home for lunch. 
You will probably need to special order the blood and perhaps even the lamb tripe, liver, and trotters from a good butcher, although some Asian markets regularly carry pork blood. If you cannot find the blood, it can be omitted and the dish will still be quite good. If you go to Salamanca, do not miss the opportunity to try a dish of authentic chanfaina with a glass of the excellent wine of the region.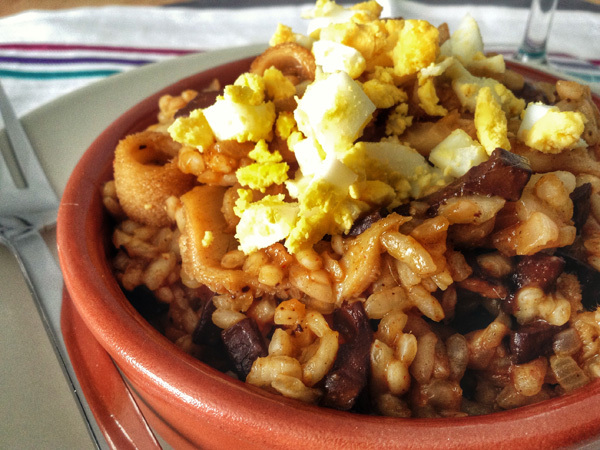 Ingredients
1/4 pound lamb tripe
2 1/2 cups chicken stock
1/3 cup olive oil
1 yellow onion, finely chopped
1/4 pound lamb or pork blood, cut into small cubes
2 lamb trotters, halved
1 lamb liver, about 2 ounces, coarsely chopped
1 tablespoon hot pimenton
1 cup Spanish rice
1 teaspoon salt
1 teaspoon cumin seeds
2 hard-boiled eggs, peeled and coarsely chopped
Preparation

Preheat the oven to 400F
Rinse the tripe thoroughly under cold running water. In a saucepan, combine the tripe with water to cover and bring to a boil over high heat. Remove from the heat, drain, let cool, and cut into small pieces. Set aside.
In a small saucepan, bring the stock to a boil. Decrease the heat to maintain a simmer.
In a medium (about 12-inch) cazuela, heat the olive oil over medium heat. Add the garlic and onion and sauté for 5 minutes, or until the onion starts to soften. Add the blood cubes, tripe, trotters, liver and pimenton, and cook, stirring gently, for about 5 minutes to blend the ingredients well.
Pour the hot stock into the cazuela, mix well with the rest of the ingredients, and bring to a boil. Add the rice, distributing it evenly, and then season with the salt and sprikle with the cumin seeds. Place in the oven and bake for 15 minutes. the rice will absorb the stock and be tender.
Remove from the oven and mix the eggs into the dish. Cover with a lid or kitchen towel and let rest for 5 minutes before serving.
You may be also interested in...
See Also
Paella recipes: There are literally hundreds of paella recipes and every cook has their own favorite recipe. At Spain-recipes. com we've collected some of our favorite paella recipes, we recommend trying them all to discover the full variety of Spanish Paella!!! 
Castilla-Leon is the largest of the Spanish Autonomous Regions. It is comprised of nine provinces which share flavours and tastes but conserve their own traditions. Traditions of huge historical and artistic richness which are gastronomically reflected, together with Extremadura and Castilla la Mancha, in its nickname "España del Asado" (Spain of the Roast). Without a doubt, Castilla-Leon is best known for its roast suckling pig and lamb.