Solomillo de Buey con salsa de Cabrales
Filet Mignon with Cabrales Sauce
More than two dozen distinct types of cheese are made in Asturias, among them two deservedly celebrated blues, Cabrales and Valdeón. Either one can be used for this quick but elegant beef dish. 
When preparing this dish, I break the golden rule of salting steaks only after frying or grilling because here I need the released meat juices for the sauce. Serve the filets mignons with mashed potatoes.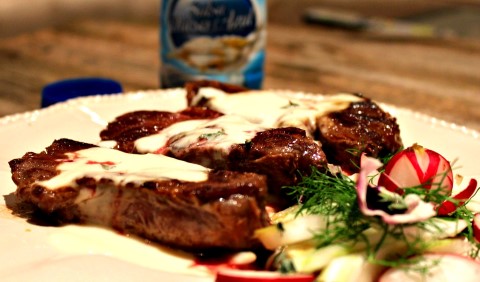 Ingredients
4 (10-ounce) filets mignons 
Salt 
3 tablespoons olive oil 
¾ cup heavy cream
Preparation
You may be also interested in...
Season the filets mignons on both sides with salt. Have ready 4 warmed dinner plates.
In a large skillet, heat the olive oil over high heat. Add the filets mignons and cook for about 1 minute on each side for rare, or longer if you prefer. Transfer the steaks to the warmed plates and keep warm. Reserve the oil and juices in the skillet.
Return the skillet to medium heat, add the cheese, and stir for 2 minutes, or until the cheese begins to soften and blend with the juices. Add the heavy cream and whisk it into the cheese. Increase the heat to high and cook, stirring constantly, for 2 to 3 minutes, or until the sauce turns golden brown and thickens.
Spoon the pan sauce over the steaks and serve.
See Also
| | |
| --- | --- |
| Cabrales cheese: Blue-veined cheese made essentially from whole, raw cows' milk, or from mixtures of two or three types – cows', ewes' and goats' milk. Ripening lasts for a minimum of two months and takes place in natural caves. | |
Asturias is a magnificent natural sea, mountain and country paradise with a very diverse environment. Protected on one side by the Bay of Biscay and on the other by the Picos de Europa mountain range, this region has always been isolated and protected from possible invasions and therefore has many deep-routed traditions and rituals.
Poultry, meat, and game recipes: Spanish cooks readily draw on a broad palette on poultry, meats and game for the everyday table, just as their ancestors have for centuries