Bunuelos de Viento
As the name implies, these "bunuelos" are light and fluffy, and melt in your mouth. They are perfect for an afternoon snack or dessert and are a typical Spanish dessert. They are lightly fried, and dusted with powdered sugar and/or filled with pastry cream, egg custard or marmalade.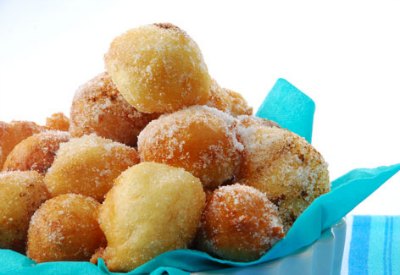 Ingredients
1 1/4 cup water
2 Tbsp butter
zest of 1 lemon
pinch of salt
2 Tbsp granulated sugar
4.5 oz unbleached white flour
1/4 tsp baking powder
4 eggs
3-4 cups vegetable oil (canola, corn, etc.) for frying
powdered sugar for dusting
egg custard for filling (optional)
Preparation
This bunuelos recipe makes approximately 24 bunuelos. For bunuelos with custard filling, allow approximately 20 minutes to prepare custard. See end of recipe for link to egg custard recipe.
Pour water, butter, granulated sugar, lemon zest and pinch of salt into a small sauce pan and bring to a boil. As soon as the water boils, add the flour and baking powder all at once and begin stirring with a wooden spoon. Stir constantly until the dough begins to come away from the sides of the pan. Take off the heat and allow to cool down for a few minutes.
When the dough is no longer hot, but warm, stir in the eggs, one by one. Use a hand mixer if necessary to ensure that the dough is smooth. Set aside for 1.5 to 2 hours.
Pour approximately 1.5 inches vegetable oil into a large heavy-bottomed frying pan. Heat on medium-high. When the oil is just hot enough to fry, begin dropping spoonfuls of dough into the oil. Turn over when bottom is golden. The bunuelos should turn a golden color and begin to float when cooked. Remove them from the pan one at a time using a slotted spoon or spatula. Allow to drain on a paper towel.

Sprinkle with powdered sugar and serve immediately.
You may be also interested in...