Bienmesabe canario
Rich Almond Dessert
Bienmesabe is the name for two different desserts. This simple almond one is from the Canary Islands, while the other dessert is from Andalusia, where it is traditionally made by cloistered nuns in Antequera, in Malaga Province. It is a sponge cake to which custard, cabello de ángel, and ground almonds are added, and it is typically purchased from the nuns or from pastry shops, rather than homemade. To make the term even more confusing, bienmesabe is also the name of an Andalusian recipe for fried fish.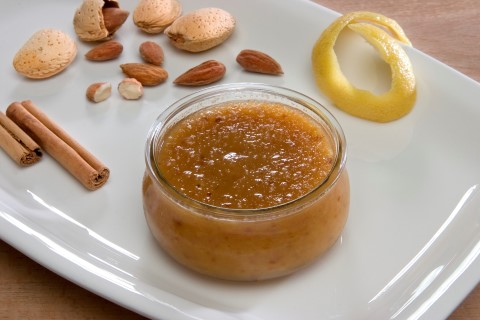 Ingredients
2 cups finely ground almonds 
1 cup water 
¾ cup sugar 
4 egg yolks 
2 tablespoons whole milk 
2 tablespoons Malvasía wine or sweet sherry 
Grated zest of 1 lemon 
1 teaspoon ground cinnamon
Preparation
In a dry skillet, toast the ground almonds over medium heat, stirring constantly, for about 5 minutes, or until golden.
Transfer to a bowl and let cool. In a small, heavy saucepan, combine the water and sugar and bring to a boil over high heat, stirring to dissolve the sugar. Decrease the heat to medium-low and simmer, without stirring, for about 20 minutes, or until a thick syrup forms.
Decrease the heat to the lowest setting, add the ground almonds, and mix well. Cook for 1 minute and then remove from the heat.
In a bowl, combine the egg yolks and milk and beat with a fork or whisk until foamy. Slowly add the yolk mixture to the pan holding the almond mixture while stirring constantly. Then add the wine and lemon zest, stir well, and return the pan to medium heat.
As soon as the mixture reaches a boil, stir well, and immediately remove from the heat. Divide the mixture among bowls, or among martini glasses for a more elegant presentation, cover, and refrigerate until cold.
Serve cold, dusted evenly with the cinnamon.
You may be also interested in...
See also
Canary Islands: The Spanish often refer to the Canary Islands as the "Islas Afortunadas" as the shine shines practically throughout the year, their only borders are the sky and the sea, and because their fauna, flora and culture, at time so different to that of mainland Spain, are real treasures. However, perhaps it would be more appropriate to call the visitor to these islands "fortunate"; not only because he can enjoy the sun, sea and environment but also because he has been presented with the opportunity to taste their culinary delights.
Almond Ice Cream: Whether served with ensaimadas or alone, this ice cream makes a perfect dessert.