Quesadas
Lemon Cheese Cake
Quesadas are typical of La Vega del Rio, a rural village in the Santander province of Cantabria where the milk, cheese, and butter are exceptional. There is a saying that sums up the popularity of this dessert: si te vas a Santander y no pruebas las quesadas, tu te dejas lo mejor y viajaste para nada. (If you go to Santander and don't try quesadas, you are missing the best and have travelled in vain).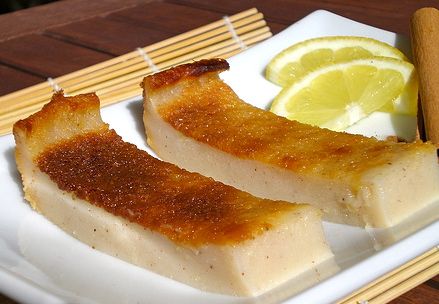 Although this cake is made with fresh cow's milk cheese, it doesn't resemble the ubiquitous American cheesecake, which has a much denser, heavier texture and is usually made with a crumb crust. I have used typical Spanish pans here for baking the two cakes, but you can use similarly sized pans, such as 7-inch square pans, keeping in mind that the cakes are not very high.
Makes 2 cakes (6 by 8 1/2-inch); serves 10 
Ingredients
1 3/4 pounds farmer cheese
4 eggs, beaten
1 1/2 cups sugar
7 tablespoons unsalted butter, at room temperature
2/3 cup all-purpose flour
1 tablespoon grated lemon zest
1 teaspoon ground cinnamon
Preparation
Preheat the oven at 400F
In a medium bowl, lightly mash the cheese with a fork until evenly crumbled. In a large bowl, combine the eggs, sugar, and butter and mix with a rubber spatula until well blended.
Gradually add the flour, stirring after each addition until fully incorporated before adding more. Add the crumbled cheese, lemon zest, and cinnamon and fold them in gently just until combined.
Transfer the batter to 2 pans each 6 by 8 1/2 inches and 1 inch deep. Bake for 20 minutes, or until a toothpick inserted into the centre comes out clean. Transfer to wire racks and let cool in the pans.
To serve, cut the cooled cakes into squares or rectangles and serve directly from the pans.
You may be also interested in...
See also
Cantabria recipes: The Region of Cantabria is very rich in history, art and natural areas: the sea, valleys with mild and warm micro-climates, fertile pastures... the varied cuisine cleverly combines the products from the sea with those from the pastures and market gardens.
Flaó is similar to American cheesecake, but the use of mint leaves and aniseeds sets it apart and makes it particularly refreshing. It calls for requesón, a fresh milk cheese, also known as Quark, and though you can easily make your own, I have also obtained spectacular results using the more readily available cream cheese.