Tecula Mecula
Imperial Almond and Egg Tart
This tart is known as the Imperial Dessert because it was said to be a favourite of Emperor Charles V, who retired to Extremadura. In his court, the tart was prepared with rendered fatback, and today it is still made that way in the pastry shops of Olivenza in Extremadura, where it is a speciality of local bakers. I prefer a mixture of butter and lard, however, which I have used here. Served with Pedro Ximenez sherry, and perhaps a scoop of ice cream or a dollop of whipped cream, this desert is truly regal.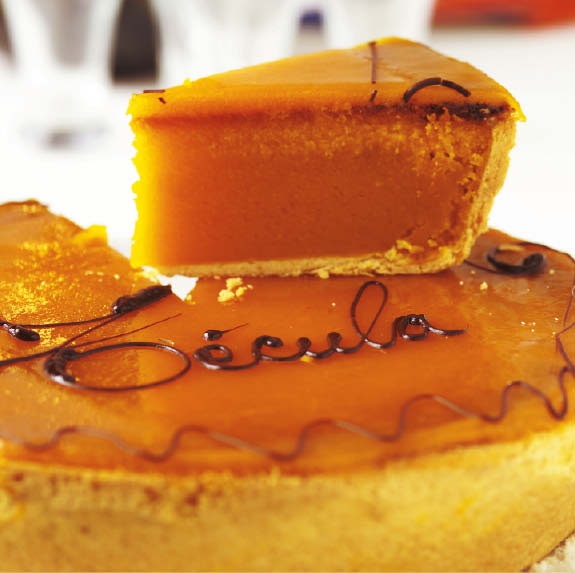 Ingredients
5 tablespoons unsalted butter, at room temperature
5 tablespoons lard, at room temperature
6 tablespoons water
1/3 cup sugar
1 1/2 cups all-purpose flour, plus extra for dusting
Pinch of salt
Filling
1 1/2 cups sugar
1 1/2 cups water
Grated zest of 1 lemon
1 pound slivered blanched almonds
1/2 cup (1/4 pound) unsalted butter, at room temperature
8 egg yolks
1 cup all-purpose flour
Preparation
To make the crust, combine the butter, lard, water, sugar, flour, and salt in a bowl and stir with a wooden spoon until the ingredients combine together in a rough dough. Turn out the dough onto a lightly floured work surface and knead for about 10 minutes, or until soft and no longer sticky. Gather the dough into a ball, flatten into a disk, wrap in plastic wrap, and refrigerate for 2 hours.
On a lightly floured work surface, roll out the dough into a thin round at least 14 inches in diameter. Carefully transfer the dough round to a 10-inch springform pan with at least 2 1/2-inch sides, pressing it into the bottom and sides. Trim away the excess dough even with the pan rim. Place in the refrigerator until needed.
To make the filling, in a small, heavy saucepan, combine the sugar, water, and lemon zest and bring to a boil over high heat, stirring to dissolve the sugar. Decrease the heat to medium and simmer for about 20 minutes, or until a thick syrup forms. Remove from the heat and let cool to room temperature.
Preheat the oven to 400F.
In a bowl, combine the almonds and butter and beat with a handheld mixer until the butter is creamy. In a large bowl, whisk the egg yolks until foamy. Add the flour to the egg yolks a little at a time, mixing well after each addition. When the flour is fully incorporated and the mixture is smooth, add the almond-butter mixture and mix with a rubber spatula until thoroughly blended and smooth. Add the cooled syrup and again mix well until thoroughly blended.
Transfer the filling to the crust. Bake the tart for 30 minutes, or until a toothpick inserted into the center comes out clean. Transfer to a wire rack and let cool in the pan.
Remove the pan sides and slide the cooled tart onto a serving plate. Serve at room temperature.
You may be also interested in...
See also
Extremadura recipes: The Extremaduran countryside never ceases to amaze the visitor, with its dry plains, luxuriant pastures, mountains, marshes, meadows and fields.... In each area there are different products, the crops and livestock influencing the local dishes.
Almond Ice Cream: Whether served with ensaimadas or alone, this ice cream makes a perfect dessert.