Tarta de Santiago (St. James' Cake)
Tarta de Santiago is a traditional cake from northern Spain. The tarta is dense and rich in flavor and is well-known in Santiago, Spain as a delectable treat used to lure passers-by into restaurants or cafés.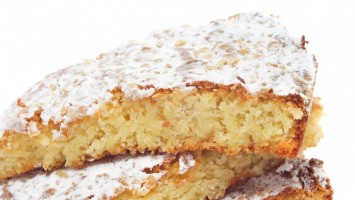 Strolling down the streets of Santiago, you are bound to be met with a Tarta de Santiago sample as restaurant and cafe owners try to tempt you into their establishment.
Almonds form the base of this delicious tarta which you can enjoy with wine, or a less traditional cup of tea, after dinner.
The traditional cake has a decoration of the Cross of the Order of Santiago. You can use a stencil and then dust the top with powdered sugar so the design remains. If you don't have one of those lying around though – just dust the top with powdered sugar and serve after it cools.
Ingredients
For the base:
1 Egg
4 oz Sugar Flour (about two glasses)
Cinnamon
A spoonful of Water
For the filling:
4 Eggs
8 oz Sugar
8 oz gm of Ground almonds
Lemon Rind
Cinnamon
Icing sugar
Preparation
To make the base, beat the egg with a spoonful of water, the sugar and a little cinnamon.
Gradually add the flour until it forms a mixture than can be kneaded.
Roll it out with a rolling pin and line the bottom of a tin that has been greased and sprinkled with flour beforehand.
For the filling, whisk the eggs with the sugar and the lemon rind. When it begins to froth, add the ground almonds and the cinnamon.
Fill the tin with this mixture and place in an oven pre-heated to 180ºC for about 25-30 minutes.
For the final touch, cut out a St. James cross out of cardboard, place it in the middle of the tart and dust the whole tart with icing sugar. When you remove the cross, the shape will remain engraved on the tart.
You may be also interested in...
See also...
Galicia recipes: Its cuisine is one of the main tourist attractions of Galicia: the exquisite delicacies of this region are based on the high quality and variety of the local products used in the preparation of dishes. Country, farm and sea products are unique in their characteristics and quality. Furthermore, it cannot be forgotten that one of the main pillars of Galician cooking is the professionalism of its experts. Galician chefs are found world-wide.