Spanish Recipes Ingredients
At spain-recipes.com we're using a careful selection of ingredients for our spanish recipes. Below follows a list of some of our choices on each category.
Spanish Paprika: When Ferdinand and Isabella in the monastery of Guadalupe received Christopher Columbus

at the completion of his second voyage to America, they were astonished when he presented them with paprika from the New World. The biting sharpness of some of the peppers took their breath away, but that did not stop the monks from cultivating them and soon the peppers spread throughout Extremadura. But it was not until the 17th Century that pimentón, the crushed powder from the red spicy pepper began its general inclusion in Spanish cuisine.
Spanish Saffron: Saffron has always been one of the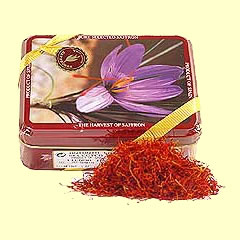 world's most precious products. Crocus sativus is the botanical name of a crocus that originally came from Asia Minor, where it has been cultivated since ancient times. The Moors brought with them the spice az-zafaran during their invasion of Spain over a thousand years ago, Today over 70% of the world's production is grown on the high Castilian plateau known as La Mancha.
Olive Oil: Olive oil is extracted from olives, the fruit of the olive tree which, together with wheat and vines, makes up the triad of Mediterranean plants. Olive oil is coming into its own in America. I liken it to what happened forty years ago when wine became a regular part of our cuisine.
Spanish Ham: Serrano cured ham is the hind leg of the pig that undergoes a manufacturing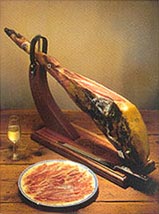 process, including the following phases: salting, or incorporation of salts into the muscular mass; washing, or elimination of the salt sticking to the surface of the piece; settling, drying and maturing. Its colour has to be pinkish when cut, which is done by hand in a thin slice with veins of fat.
Chorizo & Sausages: Every household in Spain has at least one or two of the hundreds of varieties of delicious chorizo sausages. The origins of this spicy sausage are quite old. There is documentation of the Roman praises of this product. The ingredients used to make it are lean pork, pork fat, salt, pepper, paprika, garlic. oregano and thyme.
Of note in the production

process is that it is cured in a natural environment and it is smoked with oak wood for 25 days, which gives it a characteristic and rich flavour. It is presented in a horseshoe shape ('sarta'), each unit tied to another with a single string. It may be consumed naturally, fried or in stews.
Turron: Turron is a nougat obtained by cooking honey and adding toasted almonds (usually peeled) and egg whites and kneading it to form a rectangular or round tablet. Turron is a typical christmas dessert, and its main varieties are Alicante Turron and Jijona Turron