Spanish Saffron
Saffron is a deeply rooted condiment, both economically and culturally, in Castile-La Mancha. It should not be considered just another agricultural product, rather part of the historic and cultural patrimony of the region that must be protected and preserved. It has enjoyed a Protected Denomination of Origin since 17 March 2001.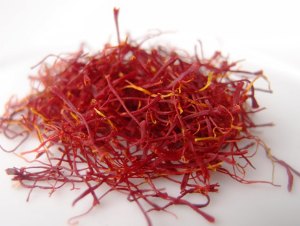 Originally from Central Asia, cultivation of this plant was introduced to the Peninsula by the Arabs, very knowledgeable about spices, who made it a condiment that was monopolised by the Al Andalus bourgeoisie.

Cultivation has been maintained ever since its arrival to the region of La Mancha. It must be noted the special care required in its cultivation, harvesting (done by hand) and pruning of the flower to obtain this prized condiment.

Saffron is obtained from the dried stigmas of the saffron crocus: Crocus sativus. It is used as a condiment, providing dishes with a characteristic orange colour and slightly bitter taste, as well as an exotic aroma. Saffron from La Mancha is different from others because of the red stigmas that extend outside of the flower and because their stems are short.

Saffron from La Mancha under the Denomination of Origin must always be saffron from the current harvest, since it loses quality over the years, and must be sold in strands only, never ground. The strands are flexible and resistant, with bright red stigmas.
Our saffron selection
| | |
| --- | --- |
| Peregrino Saffron:Often referred to as the gold of spices, saffron is intertwined with Spanish cuisine and is an indispensable ingredient in paella and other rices and stews. Its bright floral taste and golden coloring power enhances everything from rice and meat to stews, soups and sauces | San Román Premium Saffron – 10 Packets:Saffron is a passion for María José San Román. Her Michelin starred restaurant in Alicante features top quality saffron in dozens of dishes. "It's the only spice that you see, you smell, and you taste with such power," to quote from a New York Times article. |
| La Mancha Saffron with Mortar and Pestle:Saffron is one of the most prized flavors around the world, and we've discovered the very best! This precious thread-like spice is plucked by hand from tiny crocuses in La Mancha, an area recognized for its superior saffron. Grind a pinch with this mortar and pestle, and let it add a flowery perfume and golden color to any dish it touches. This spectacular set makes a wonderful addition to your kitchen! | |
Recipes with saffron
| | |
| --- | --- |
| Mixed Paella: This is the recipe that springs to mind to most people think of paella. While Valencia, the homeland of paella, rarely produces a paella mixing seafood with meat, this paella has caught the popular imagination outside Spain and tends to be the paella served in most Spanish-themed restaurants.  | Catalan-Style Monkfish paella: Hailing from Catalonia, this paella features monkfish, which has gained in popularity in recent years. Prepared and cooked correctly, monkfish tastes like lobster. Here, the subtle flavor and tenderness of the monkfish add the perfect accents to the plump, juicy rice. A chilled white wine is the perfect accompaniment to this seafood paella |
| Chicken and shrimp paella: An efficient and delicious way to feed a hungry family, this paella relies on condensed soup for its creamy flavor. The chicken and shrimp contrast nicely with the sweet bell peppers, and the delicately balanced herbs ensure that this paella will become an easy family favorite | Arroz al horno (Baked rice): This recipe is typical of home-cooking in the Marina Alta comarca in Alicante province--although you find slightly different versions all over Levante. |
Gallina en Pepitoria (Braised Hen in Almond Sauce): This dish has its origins in Aragon and in neighbouring Navarra, though it is highly valued in other parts of the country as well. Most people serve it on festive occasions, but I don't wait for a special day, since it is both easy to prepare and delicious, especially wedges of fried bread served alongside. 
You may be also interested in...
See also...
Castilla-La Mancha recipes: Located almost in the centre of mainland Spain, Castilla la Mancha and its cuisine is a very appreciated discovery for the traveller. The cuisine of this region is comprised of a great variety of traditional, hearty yet simple dishes which are prepared using elementary ingredients such as bread, meat, vegetables and accompanied by a wide range of wine, sheep's cheese and desserts, transporting the diner back to the era of Don Quixote and his faithful Sancho.