Chicken and shrimp paella
An efficient and delicious way to feed a hungry family, this paella relies on condensed soup for its creamy flavor. The chicken and shrimp contrast nicely with the sweet bell peppers, and the delicately balanced herbs ensure that this paella will become an easy family favorite.
Serves:  8
Difficulty:  Easy
Preparation time:  75 minutes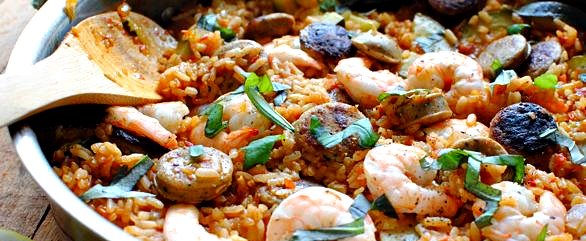 Ingredients
1/2 cup (4 fl. oz) of olive oil
4 skinless, boneless chicken breasts, cut into small pieces
1 can (about 10 oz) condensed onion soup
1 can (about 10 oz) condensed tomato soup
3 cups (24 fl oz) water
5 cloves garlic, minced
1 teaspoon dried oregano
1/2 teaspoon turmeric
1/4 teaspoon dried thyme
2 cups (16 oz) rice
32 oz uncooked shrimp, peeled and deveined
1 large green bell pepper, cut into strips
1 large red bell pepper, cut into strips
1/4 teaspoon saffron
Salt and pepper to taste
1 (6 oz) roasted sweet red bell pepper, in strips
18 (6 oz) mild green canned chiles
1 cup (8 oz) stuffed olives, sliced
Preparation
Heat the olive oil in a paella pan. Add the chicken, and cook until browned on all sides.
Add the onion and tomato soups, water, garlic, oregano, turmeric, thyme, salt, and pepper and cook, covered for 15 minutes.
Mix in the rice, shrimp, bell peppers, roasted red bell peppers, and olives and cook, covered, for 25 minutes or until the liquid has been absorbed, the shrimp are cooked, and the chicken and rice are tender. Uncover, allow the paella to cool, and serve.
You may be also interested in...
See also...
Paella recipes: There are literally hundreds of paella recipes and every cook has their own favorite recipe. At Spain-recipes. com we've collected some of our favorite paella recipes, we recommend trying them all to discover the full variety of Spanish Paella!!!