Mixed PAella
This is the recipe that springs to mind to most people think of paella. While Valencia, the homeland of paella, rarely produces a paella mixing seafood with meat, this paella has caught the popular imagination outside Spain and tends to be the paella served in most Spanish-themed restaurants.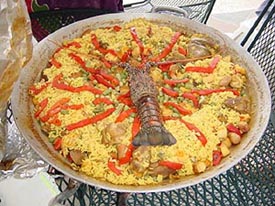 It's easy to understand why few could resist the combination of delicate lobster meat, mussels, clams, and shrimp teamed with rich chorizo sausage and tender chicken.
Serves: 6-8
Difficulty: Intermediate
Preparation time: 60-90 minutes
Ingredients
1/2 pint of olive oil
10 mussels
10 clams
2 oz boneless pork, diced
2 teaspoons minced garlic
6 oz onions, chopped fine
1 medium tomato, skinned, seeded and chopped
1 small red bell pepper, seeded and cut into thin strips
1 small green bell pepper, seeded and cut into thin strips
1 small yellow bell pepper, seeded and cut into thin strips
32 oz skinless, boneless chicken breasts, cut into chunks
Salt and pepper to taste
1 teaspoon paprika
1/2 teaspoon dried rosemary
1/2 teaspoon dried thyme
1/4 teaspoon ground cumin
24 oz lobster claws
24 oz rice
3 cups (48 fl. oz) chicken broth
1/4 teaspoon saffron
2 chorizo sausages, cooked and cut into chunks
10 uncooked shrimp, peeled and deveined
4 oz peas
4 tablespoon capers
Lemon wedges, to garnish
Preparation
Scrub and debeard the mussels and clams, discarding any that don't close when tapped sharply. Set aside.
Heat 1/4 cup (2fl. oz) of the olive oil in a skillet. Add the pork, and brown all sides. Mix in the garlic, onions, tomato, and bell peppers, stirring constantly until cooked. Set aside.
In another skillet, heat a further 1/4 cup (2 fl. oz) olive oil and cook the chicken until browned on all sides. Season with salt, pepper, paprika, rosemary, thyme, and cumin. Transfer the chicken to a plate and set aside.
In the same skillet, cook the lobster claws overt high heat for several minutes until its shell turns pink. Set the skillet aside.
Preheat the oven to 200 ºF. Heat 4 tablespoons olive oil in a skillet, and sauté the rice until it's translucent. Pour in the chicken broth, and combine well. Add the pork mixture, stirring constantly. Sprinkle in the saffron and continue to stir until well mixed.
Transfer the rice into a paella pan. Mix in the lobster claws, chicken, chorizo sausages, mussels, clams, shrimp, peas, and capers, combining well. Bake the paella, uncovered, and on the lowest oven shelf, for around 25 minutes, or until all the liquid has been absorbed.
Discard any mussels and clams that have failed to open.
Serve the paella straight from the pan, garnished with lemon wedges.
You may be also interested in...
See Also...
Valencia recipes: The incredible variety of rice dishes and desserts is outstanding. All this without forgetting the great variety of fruit which the Region of Valencia produces in abundance. Its traditional soft drinks have also become well-known, such as tiger nut milk ("horchata de chufa"). Its long wine-growing tradition has given rise to a delicious range of wines with their Denominations of Origin, which when added to the local soups comprise some of the most exquisite recipes of Valencian cooking. 
Paella recipes: There are literally hundreds of paella recipes and every cook has their own favorite recipe. At Spain-recipes. com we've collected some of our favorite paella recipes, we recommend trying them all to discover the full variety of Spanish Paella!!!