Baked Rice (arroz al horno)
This recipe is typical of home-cooking in the Marina Alta comarca in Alicante province--although you find slightly different versions all over Levante. Baked Rice
It's also sometimes called arroz passejat, meaning rice that has gone for a walk--because it was taken to the baker's oven for cooking. Until recently, this was always made with the Bomba rice grown behind Denia, which gave the grains a firmness and much greater texture.
Servings: 4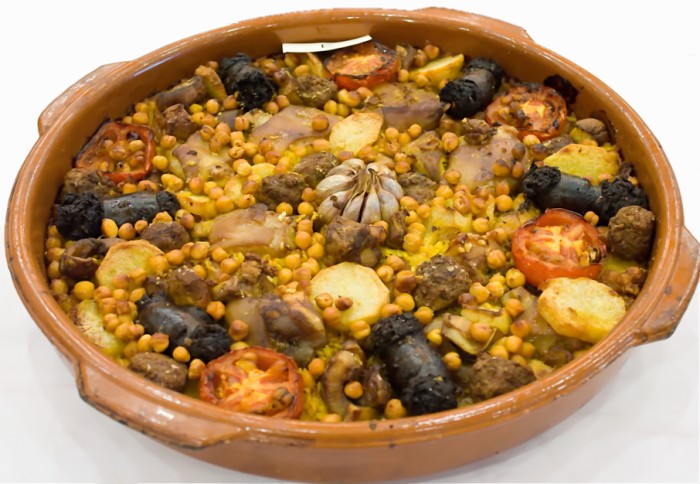 Ingredients
1 lb 2 oz Bomba rice
1/2 cup olive oil
1 lb 6 oz mixed chicken and rabbit joints and lean pork, on the bone and cut into small chunks
1 red pepper
3 ripe tomatoes, 1 grated and 2 halved crossways
7 oz garbanzo beans, soaked for 12 hours in cold water
1 head of garlic
Salt
Pimentón (spanish paprika)
Saffron
About 1 quart water
Preparation
Heat the oil and fry the pieces of meat until they are golden. Add the red pepper, cut into three or four pieces, and the grated tomato. This may be done ahead of time.
Heat the oven to high. Bring the water to boil. In a 2 1/2 quart capacity casserole, make a bottom layer of the Bomba rice mixed with saffron; next put in the meat fried with the tomato; then the garbanzo beans arranged between the pieces of meat. Pour over the boiling water (using slightly less if the dish is not made of earthenware).
On the top, put the whole head of garlic in the middle and, around it, the red peppers and the remaining two tomatoes, halved crossways. Check for salt and put the dish in the center of the oven for 25 minutes. It should simmer slightly and may appear to be dry earlier, but will need the full cooking time. Leave to rest for 15 minutes.
You may be also interested in...