Pimenton (Spanish Paprika)
Spanish paprika is a natural condiment, intense red in colour, with a strong flavour and aroma, which is obtained from grinding red peppers.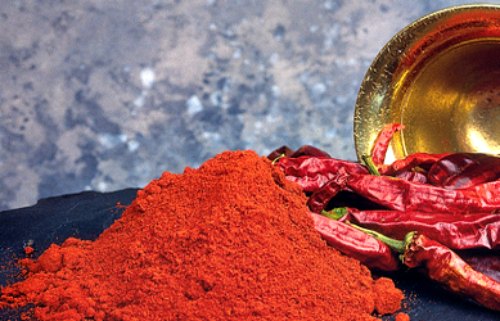 Its origins date back to the introduction of the pepper to Spain following the conquering of Mexico. The process of obtaining the paprika has two phases; drying the vegetable and then grinding them.
The drying process, following dehydration produced by a heat treatment, usually lasts two weeks. Then it is classified according to type and quality (sweet, bittersweet or spicy), the grinding process begins, and, finally, it is packaged. 

Although its primary destination is the delicatessen industry, it is also a common element in home cooking. It is a widely used condiment in many traditional Spanish dishes, accompanying fish (octopus or ray), all types of stews, and as an essential ingredient in most Spanish sausages.
It crosses into regular American cuisine as a seasoning for barbecue pork, kebabs, and rich beef and lamb stews. Although it is not generally available, even in many gourmet shops, there is no substitute for use in authentic Spanish cooking. Pimenton comes in three varieties -- sweet and mild (dulce) bittersweet medium hot (agridulce) and hot (picante) -- and normally keeps for two years.

Our pimenton selection
| | |
| --- | --- |
| Sweet Smoked Paprika by La Dalia: Sweet smoked paprika is a key ingredient in authentic paella. Beyond paella, it is an excellent spice to use for flavoring potatoes, stews and sauces. Sweet smoked paprika's smoky, intense flavor is also fantastic with roasted meats, chicken or fish. | Bittersweet Smoked Paprika by La Dalia: Made from freshly harvested peppers smoked for 15 days over encina oak wood fires, bittersweet smoked paprika has a mildly piquant, intensely smoky flavor that sets it apart from the bland grocery store paprika most of us are used to buying. A dash of pimentón will transform homemade stews and sauces with its smoky, rich flavor. Sprinkle it on deviled eggs, potatoes or any number of seafood and meat dishes. |
| Hot Smoked Paprika by La Dalia: With a tangy, piquant flavor, Pimentón de La Vera Picante, or hot smoked paprika, is the paprika to choose when you're looking for a lightly spicy option for barbecued meats, roasted potatoes and a wide variety of other Spanish dishes including paella. | Spanish Spice Collection: Bring the secret flavors of Spain to your kitchen! Not only are they the secret to classic Spanish cuisine, but we find they have found their way into all of our cooking, adding bright intense flavor to everything we prepare! These artisan quality spices are packed in a cloth gift bag for you to enjoy or share with the chef in your life. |
You may be also interested in...
Recipes with Pimenton
| | |
| --- | --- |
| Pulpo a Feira: Though it originated in Galicia or the neighboring region of Leon, pulpo a feira, as it is known in Galician, or pulpo a la gallega, as it is called in Spanish, is now popular throughout Spain. It is usually served on wooden plates with cachelos, potatoes that have been boiled or roasted in embers with their skins on. | |
| | |
| --- | --- |
| Sobrasada: Residents of the Balearic Islands are unabashed partisans for their distinctive red sobrasada sausage. It is made from the meat of the local porc negre, or 'black pig', which is related to the ibérico pig of the mainland, but is slightly larger with a longer neck and meatier cheeks, and it is seasoned with a local paprika ground from the local red peppers. | Marmitako: Marmita translates as 'pot' or 'casserole' in Basque, while the suffix ko is the genitive case, so that marmitako literally means 'from the pot'. Of course, just about everything in Basque cooking comes 'from the pot', but only this venerable dish goes by that name. |
| Grouper a la Mallorquina: When a fish is prepared a la mallorquina you know that it will be cooked with a variety of vegetables piled on top. Ideally, the fish is a whole and weighs at least five pounds. Grouper is a good choice, but so is red snapper, striped bass, John Dory, or any other lean, white fleshed fish. The crown of colorful vegetables not only looks pretty but also infuses the fish with sensational flavor. | Red paella: This colorful paella gets its name from the addition of paprika and red bell peppers, which flavor the rice. The sweetness of the roasted sweet red bell peppers in this recipe is the perfect counterpoint to the saltiness of the clams and aromatic pungency of the garlic. Filling but light, this paella leaves ample room for a creamy Spanish dessert. |