Red Paella
This colorful paella gets its name from the addition of paprika and red bell peppers, which flavor the rice. The sweetness of the roasted sweet red bell peppers in this recipe is the perfect counterpoint to the saltiness of the clams and aromatic pungency of the garlic. Filling but light, this paella leaves ample room for a creamy Spanish dessert.
Serves:  6
Difficulty:  Intermediate
Preparation time:  60 minutes
Ingredients
3/4 cup (6 fl. oz)  of olive oil
1 medium onion, chopped
8 oz clams, scrubbed
12 oz uncooked shrimp, peeled and deveined
3 cloves garlic, minced
3 cups (24 oz) rice
3 1/4 cups (26 fl oz) fish broth
1/4 teaspoon saffron
6 1/4 cups (50 fl. oz) fish or chicken broth
1/2 teaspoon spanish paprika
Salt and pepper to taste
1 cup (4 fl oz) roasted sweet red bell pepper, sliced
Lemon wedges (optional), to serve
Preparation
Heat the olive oil in a paella pan over medium to high heat. Add the onion and red bell pepper  and cook until the onion begins to soften. Add the garlic and cook for a further 5 minutes.
Pour in the rice and cook, stirring constantly, for a further 5 minutes or until the rice is translucent. Mix in the clams, shrimp, broth, spanish paprika, saffron, salt, and pepper. Cover, and cook for 25 minutes or until all the liquid has been absorbed.
Remove from the heat. Taste for salt, and arrange the sweet red bell peppers in a pattern over the rice. Cover again and wait 5 minutes before serving.
You may be also interested in...
See also...
Valencia recipes: The incredible variety of rice dishes and desserts is outstanding. All this without forgetting the great variety of fruit which the Region of Valencia produces in abundance. Its traditional soft drinks have also become well-known, such as tiger nut milk ("horchata de chufa"). Its long wine-growing tradition has given rise to a delicious range of wines with their Denominations of Origin, which when added to the local soups comprise some of the most exquisite recipes of Valencian cooking. 
Paella recipes: There are literally hundreds of paella recipes and every cook has their own favorite recipe. At Spain-recipes. com we've collected some of our favorite paella recipes, we recommend trying them all to discover the full variety of Spanish Paella!!!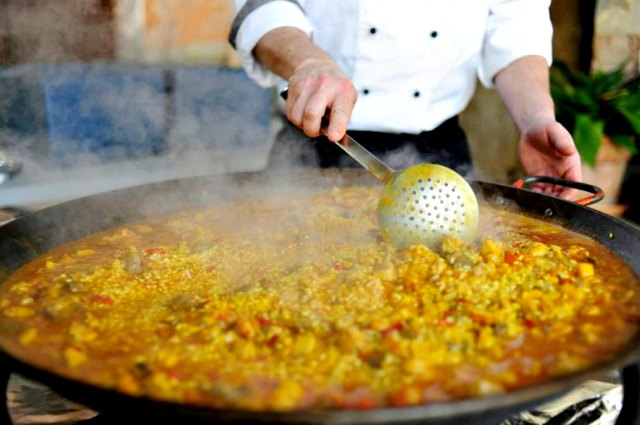 The secrets of paella: The authenticity of paella is gauged by the community it builds. What better way to enjoy your friends than to sit around the communal paella and share it together? Is that not what life is all about?