Churros
Although churros are by no means exclusive to Madrid, they may have originated here. No open-air festival would be complete without its churrería stall, or at least a hawker wearing white cuffs and carrying a basket of freshly-fried fritters.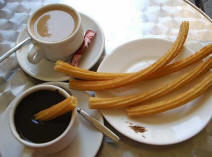 They are long thin strips of fluted dough fried to form loops. If thicker and straight, they are called porras, and if in the shape of a ring or hollow ball, buñuelos.
Servings: 8
Prep Time: 20 min.
Cook Time: 5 min.
Ingredients
17 fl oz water
9 oz sifted flour
1 tsp salt
Plenty of oil for frying
Sugar (optional)
Preparation
Bring the salted water to a boil in a high-sided pot. When it starts to boil, pour in all the flour and mix with a wooden spatula over the heat until a consistent, even dough is formed. Remove from the heat and continue to work the dough with the same spatula. When completely smooth, fill the churrera, a large tin or brass syringe that has a variety of nozzles and several handles to grip it while pressing the dough through.
Heat the oil to 375 degrees F in a large frying pan and drop in strips of dough forming loops. Cook as many as will fit without touching each other. After 3-4 minutes, when golden, remove with a slotted spoon or a spike and leave to drain in a colander or on kitchen paper. Serve hot, sprinkled with sugar if desired.
Related products
Enjoying churros and chocolate is one of the pleasures we look forward to every time we visit Spain. In every town and city in Spain the smell of fresh churros greets you as you step into the street in the morning.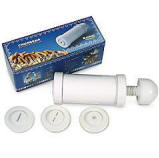 This high quality churro maker brings this experience to your home. It is made in Spain by Bernar, the leading manufacturer of churro makers for generations. It even comes in a tidy drawstring bag! They include a classic recipe and detailed instructions. We recommend cooking them in a deep fryer using vegetable oil, or lard, but you can also use a frying pan.
In days gone by each municipal market had at least one churro maker. In El Puerto de Santa María where we lived, we would see two families making them by the market gates -- right around the corner from the man who had myriad varieties of olives from dozens of pails and barrels. The churro batter would sizzle in a caldron of hot lard as the husband would flex his muscles to extrude the batter into long pretzel type shapes. Then his wife or son would take a thin iron rod to lift out the toasty churros as they became golden brown. They would snip them into handy pieces, fill up a cone made of a page from an old newspaper, sprinkle with sugar, and deliver them to you for 5 or 10 duros (5 peseta pieces).
In recent years the churro makers have gone 'high tech.' At the Spring Feria in Sevilla the neon signs generate excitement flashing 'churros y chocolate'.
Classic Thick Hot Chocolate
Valor Chocolate a la Taza is the thickest, creamiest, richest hot chocolate in the world!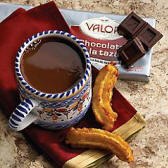 In Spain they dip fresh churro pastries into a cup of this extraordinarily thick hot chocolate. (We have a churro making kit for you if you are feeling ambitious! -- but doughnuts and similar pastries are fine.)
Valor has been the classic chocolate source for Spaniards for over 100 years. When you melt their chocolate a la taza in simmering milk, this solid dark chocolate bar transforms hot milk into a rich and satisfying chocolate brew!
It is so easy to make. All you do is add about 2 or 3 squares of your Valor bar per cup of milk, which is simmering on the stove, stir occasionally until it thickens (due to the small amount of rice flour in the bar .
How thick you want your hot chocolate is up to you -- you determine its thickness by the number of chocolate squares you add to the milk; and how long you let it simmer on the stove -- usually for about two minutes or so.
Each bar will make up to 8 mugs of wonderfully thick hot chocolate.