Tetilla cheese
Typically Galician, Tetilla cheese is made from milk from herds of cows in the area, basically Friesians, Alpine Browns and Rubia Gallega.  Its flavour is creamy and slightly salty, its texture is fine and its colour yellowish ivory, although undoubtedly its greatest characteristic is the peculiar breast-like shape that gives it its name (tetilla means small breast).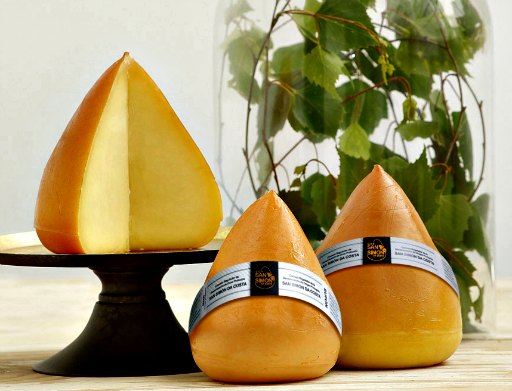 Originally, the master craftsmen modelled the cheeses by hand. It is curdled with animal rennet and its maturing, which lasts between 10 ad 30 days, is carried out in the cool, damp environmental conditions of the Galician climate. Its Designation of Origin has existed since 1992. 
| | |
| --- | --- |
| | Tetilla Cheese:Tetilla is a favorite of our family: a rich, creamy dairy cheese from the lush countryside of Galicia. This soft, buttery cheese is wonderful with fresh bread, or melted on canapes.Sometimes you might like to sit down for a moment with a fresh apple and slices of Tetilla. Another time you might want to make glorious grilled cheeses on crusty bread – or make a tempting cream sauce for asparagus or cauliflower. Actually, any time you think of using a mild cheddar or Gouda, try a rich creamy Tetilla instead. |
Origin
It originally began to be made in the central part of Galicia, on the border between La Coruña and Pontevedra, largely around Curtis, Sobrado dos Monxes, Arzúa and Melide. Nowadays, both the milk production and manufacturing areas include all Galicia, in the northeastern corner of the Iberian peninsula.
Best with...
Tetilla cheese is delicious accompanied by a dry full-bodied wine, manzanilla or sherry, young and wood-aged whites, especially the Galician whites albariño or ribeiro.

| | | |
| --- | --- | --- |
| Colosia Oloroso Sherry: Aged for at least 5 years, the Bodegas Gutierrez Colosia Oloroso is a full-bodied, nutty sherry with a strong and fragrant aroma. Amber or mahogany in color, it is darker, smoother and less dry than amontillado sherries. | Legado del Conde Albarino 2012: 89 Points - [Refers to 2011 vintage] - "Light yellow-gold. Highly aromatic, complex bouquet evokes pear, white peach, melon and white flowers. Round and supple in texture, with deep honeydew and pit fruit flavors that expand with air. Finishes smooth and sappy, with lingering peach and floral notes. On the rich side for albarino but in no way lacking energy." -Stephen Tanzer's International Wine Cellar | Colosia Manzanilla Sherry by Bodegas Gutierrez: Bottled in El Puerto de Santa Maria by Bodegas Gutierrez Colosia, this Manzanilla sherry has a sharp and salty, almost tangy taste that pairs fantastically with classic tapas items including boquerones, Jamon Serrano and Manchego cheese. |
See also
| | |
| --- | --- |
| Spanish Cheese: In slices, for spreading or in cubes. As a snack, for dessert, in salads or as part of a recipe. Cheese is delicious any way you try it, and it is always a part of any meal worth the name. Simple but delicious, devotees of this dairy product will find more than a hundred different varieties in Spain. It is one of the vital ingredients in Spanish cuisine. Come and discover it!  | |
Subscribe to our newsletter