Ajo Mataero
Country Pâté of Pork Liver
This delicious Pâté from Albacete, a medieval town famous for its knives, is a typical first course for family lunches. It is served on a plate placed in the middle of the table, and everyone takes a portion and spreads it on toasted bread slices.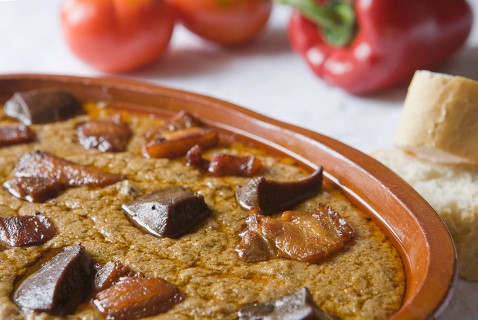 Ingredients
1/2 pound pork liver, cut into small stripes
1 1/2 teaspoons salt
1/2 teaspoon freshly ground black pepper
1/4 cup olive oil
1/4 pound unsmoked  bacon, coarsely chopped
1/4 pound country-style bread, sliced and toasted
2 cups water
1 clove garlic, peeled but left whole
1/2 teaspoon ground cinnamon
1 1/2 heaping spoon sweet pimenton
1/2 teaspoon dried oregano
Pinch of ground cloves
1/4 cup pine nuts
Preparation
Season the liver with 1 teaspoon of the salt and the pepper. In a sauté pan, heat the olive oil over high heat. When it is hot, add the liver and bacon, decrease the heat to medium and cook, stirring, for 5 minutes, or until lightly browned. Using a slotted spoon, transfer the liver and bacon to a bowl and set aside.
Return the pan to medium heat, add the bread slices, and cook briefly, turning as needed, for a few minutes, or until the bread slices have soaked up the remaining oil and are lightly browned. Add the water, increase the heat to high, and bring to a boil. Decrease the heat to medium-low and cook, stirring occasionally, for 15 minutes, or until the mixture turns into a soupy porridge.
Meanwhile, in a blender or mortar, combine the garlic, cinnamon, pimenton, oregano, cloves, and a spoonful of the fried liver. Process or pound with a pestle for several minutes  until a paste-like consistency forms.
Add the paste and the remaining 1/2 teaspoon salt to the bread mixture and continue to cook over medium-low heat, stirring frequently, for 15 minutes, or until thickened. Add the pine nuts and the bacon and liver, mix well with the rest of the ingredients, and cook for 10 minutes longer, or until all the liquid has evaporated and the mixture has a chunky, pate-like texture.
Spoon the pate onto a serving plate, shaping it into an attractive mound. Serve warm or at room temperature.
You may be also interested in...
See Also
Castilla-La Mancha recipes: Located almost in the centre of mainland Spain, Castilla la Mancha and its cuisine is a very appreciated discovery for the traveller. The cuisine of this region is comprised of a great variety of traditional, hearty yet simple dishes which are prepared using elementary ingredients such as bread, meat, vegetables and accompanied by a wide range of wine, sheep's cheese and desserts, transporting the diner back to the era of Don Quixote and his faithful Sancho. 
| | |
| --- | --- |
| Manchego is, without a doubt, the most famous cheese in Spain. It has been consumed since time immemorial throughout the region of La Mancha. This has made it possible today for an important cheese industry to develop, which maintains handcrafted production of the cheese. | |