Apple and walnut salad
This refreshing, crisp summer salad provides the perfect accompaniment to a glass (or two) of chilled Spanish sherry.
For a tangier version, add a dash of lemon juice to the mayonnaise before mixing it into the salad
Serves 2
10 minutes preparation
Difficulty: Easy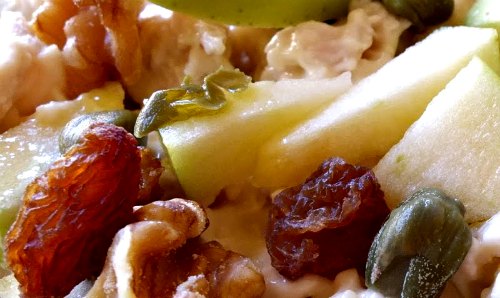 Ingredients
1 large sweet green apple
3 tablespoons lemon juice
3 scallions, chopped
1/4 cup (1 1/4 oz) golden raisins
1 celery stalk, trimmed and chopped
2 medium cooked potatoes, peeled and chopped
8 walnuts, shelled
1 cup (8 fl. oz) mayonnaise
1 1/4 tablespoons chopped cilantro
Preparation
Peel, core and dice the apple. Sprinkle a little lemon juice to prevent discoloration and set aside.
Combine the scallions, raisins, celery and potatoes in a medium earthenware bowl.
Add the diced apple, walnuts, and mayonnaise, mixing thoroughly. Sprinkle lightly with cilantro and serve immediately.
You may be also interested in...
See also...
Tapas are Spain's greatest food invention. "Eat when you drink, drink when you eat" is the philosophy. Spanish men traditionally drink outside the home and rarely alone. They are not meant to be a meal (although a ración is a substantial portion). One tapa per person and a different one with each drink is the idea, then everyone enjoys tasting and sharing.