Arroz negro - Black rice
Black rice (arroz negro) is popular along the entire Mediterranean coast of Spain, but specially in Castellon de la Plana, the extreme north of the Valencian Community, and in Tarragona, the most southern area of neighboring Catalonia. 
The original recipe is also known as arroz de pobre, or "poor's man rice", a reflection of its modest ingredients. Its simplicity - just flavorful rice with a little alioli - makes it a perfect first course. For a more substantial meal, add additional squid or any other fish or shellfish when you add the rice.
Some Catalan cooks make a version of this recipe that calls for sautéing a lot of onion until it is very dark before adding the rice. Although it is also called arroz negro, the resulting dish looks more grayish than black.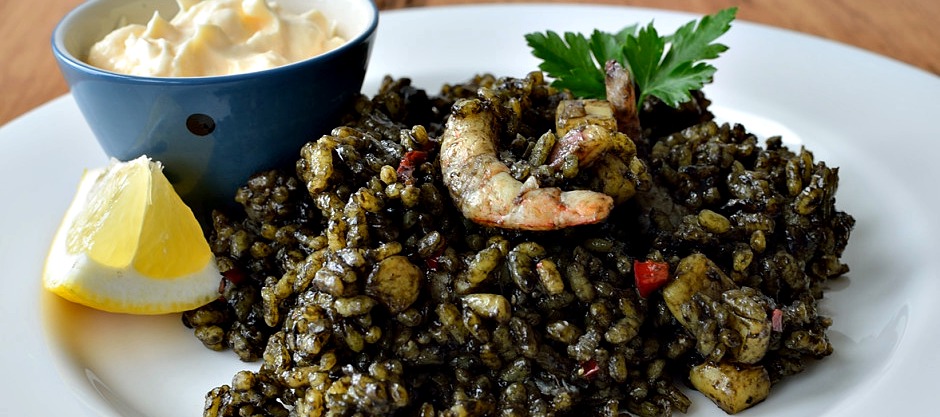 Ingredients
6 tablespoons squid ink sauce
2 mid-sized squid, chopped
4 cups fish stock
2 cups Spanish rice
1 teaspoon salt
1 teaspoon freshly squeezed lemon juice
1 cup alioili
Preparation
Pour the fish stock into a large (about 15-inch) paella pan and bring to a boil over high heat. Add the rice, squid ink sauce, chopped squid, and salt and mix well, distributing the rice evenly in the pan. Boil for 5 minutes, then decrease the heat to medium-low and cook for about 12 minutes, or until the rice has absorbed the liquid and is tender.
Remove from the heat and sprinkle with the lemon juice. Cover with a lid or a kitchen towel and let rest for 5 minutes before serving. Serve with alioli.
You may be also interested in...