Barbecued mini ribs
These tasty ribs are known as Costillas in Spain. They are delicious cooked on a barbecue and almost as good when cooked under a hot grill. If you prefer a sweeter flavor, use freshly squeezed orange juice instead of the sweet sherry.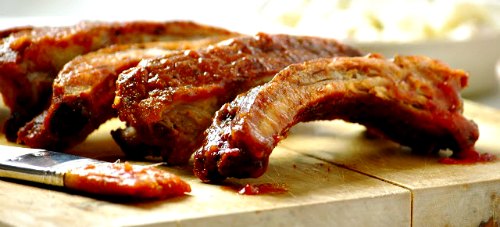 Ingredients
1 sheet of pork ribs, about 1 1/2 lb
6 tablespoon sherry
1 tablespoon tomato purée (paste)
1 teaspoon soy sauce
1/2 teaspoon Tabasco Sauce
1 tablespoon brown sugar
2 tablespoon seasoned plain (all-purpose) flour
Coarse sea Salt
Preparation
Separate the ribs, then, using a meat cleaver or heavy knife, cut each rib in half widthways to make about 30 pieces.
Mix the sherry, tomato purée, soy sauce, Tabasco, and sugar in a bowl. Stir in 1/2 teaspoon of salt.

Put the seasoned flour in a strong plastic bag, then add the ribs and toss to coat.

Dip each rib in the sauce. Cook on a hot barbecue or under a hot grill (broiler) for 30-40 minutes, turning occasionally until cooked and a little charred.

You may be also interested in...