Basic Sangria Recipe
A very simple, basic sangria recipe. While this sangria is delicious as is, this recipe intentionally leaves ample room for improvisation and additions, and should therefore be used as a springboard to create your own unique sangria recipes. The unaltered basic sangria recipe below, however would meet with the approval of strict sangría traditionalists.
Makes 4 glasses
Difficulty: Very easy
Preparation time: 10 minutes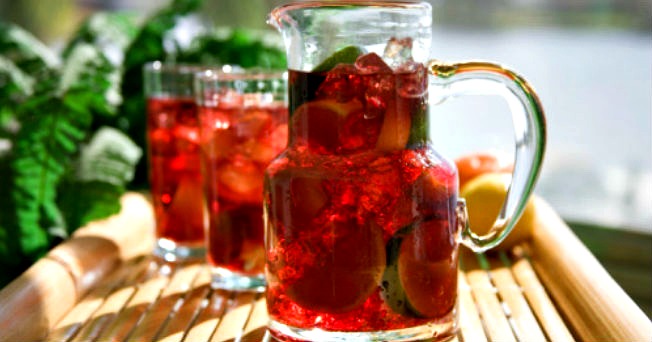 Ingredients
3 1/4 cups ( 26 fl. oz) dry red wine
1 tablespoon sugar
Juice of 1 large orange
Juice of 1 large lemon
1 large orange, sliced thin crosswise
1 large lemon, sliced thin crosswise
2 medium peaches, peeled, pitted and cut into chunks
1 cup (8 fl. oz) club soda
Preparation
Combine all the ingredients except for the club soda in a large punch bowl or serving pitcher, mixing well. Refrigerate overnight.
Immediately before serving, mix in the club soda for added fizz.
Ladle into cups with ice cubes.
You may be also interested in...
See also
Andalusia recipes:  The Romans taught the Andalusians how to cultivate wheat and vines and used the fish from the seas to produce the best "garum" in the empire. The Arabs taught the Andalusians how to grow fruit and vegetables. They used irrigation systems and improved the cultivation of olive trees and the production of oil. Furthermore, the Greeks, Phoenicians, Carthaginians and Visigoths left their mark on the art, science, culture and gastronomy of Andalusia.