Caldillo de perro
Fish soup with Bitter Orange
The touch of bitter orange gives this fish soup an original flavor. Outside Andalusia, it is unusual to find bitter orange in any recipe, mainly because the trees are planted primarily in this part of Spain.
This soup is typical of the ancient city of Cádiz, which is also known as La Tacita de Plata, or "Little Silver Cup." Theory holds that the name comes from the fact that Cádiz, which sits on a cup-shaped bay, turns silvery in the setting sun.
Bitter oranges are not widely available in the United States, where farmers usually sell their entire crop to marmalade producers. If you cannot find them in your market, a mixture of regular orange juice and lemon juice is a good approximation.
Serves 6 as a first course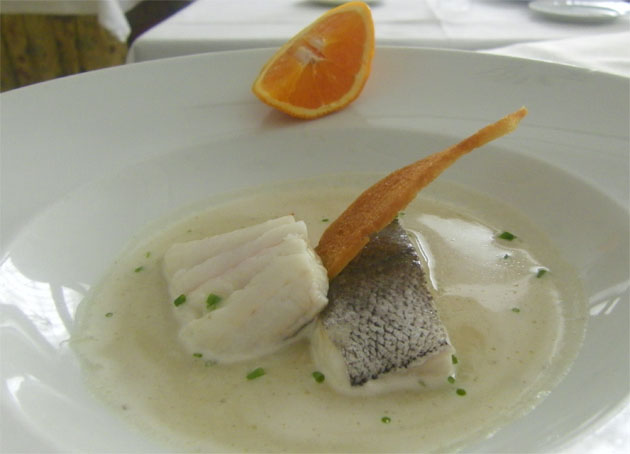 Ingredients
6 cups Fish Stock 
Zest of 1 bitter orange, or of ½ lemon and ½ regular orange, cut into wide strips 
1 tomato, cored and halved 
1 yellow onion, halved 
½ green bell pepper, seeded and coarsely chopped 
1 flat-leaf parsley sprig, plus chopped parsley for garnish 
1 clove garlic, peeled but left whole 
1 slice day-old country-style bread or baguette, about 1 ounce, soaked in water to cover and squeezed dry 
Pinch of saffron threads
1 ½ pounds hake, cod, or whiting fillets, cut into small pieces 
Salt
Juice of 1 bitter orange, or of ½ lemon and ½ regular orange
Preparation
In a stockpot, combine the fish stock, orange zest, tomato, onion, bell pepper, and parsley sprig and bring to a gentle boil over medium heat. Decrease the heat to low and cook for 15 minutes to blend the flavors. Strain the stock through a fine-mesh sieve placed over another saucepan. Discard the orange zest and parsley and set the vegetables aside.
In a small, dry skillet, roast the garlic over high heat, turning as needed, for 3 minutes, or until colored on all sides. Remove from the heat.
In a blender or food processor, combine ½ cup of the reserved stock with the reserved tomato, onion, and bell pepper; the roasted garlic; bread; and saffron. Process until a smooth purée forms. Add the purée to the remaining stock, mix well, place over medium heat, and bring to a simmer.
Season the fish pieces with salt and add to the pan. Decrease the heat to low and cook for about 5 minutes, or until the fish turns opaque.
Remove from the heat, add the orange juice, stir gently, and let rest for 5 minutes. Ladle into warmed bowls, sprinkle with the chopped parsley, and serve.
You may be also interested in...
See also
Platos de cuchara: Scores of soups and legume stews, called platos de cuchara, literally "dishes eaten with a spoon," are beloved across the country. Many of them are regional variations of national favourites, and in this section, we have included recipes that reflect that diversity.
Andalusia recipes:  The Romans taught the Andalusians how to cultivate wheat and vines and used the fish from the seas to produce the best "garum" in the empire. The Arabs taught the Andalusians how to grow fruit and vegetables. They used irrigation systems and improved the cultivation of olive trees and the production of oil. Furthermore, the Greeks, Phoenicians, Carthaginians and Visigoths left their mark on the art, science, culture and gastronomy of Andalusia.