Caldo Gallego
White Bean soup with Greens and Meats
Restaurant chefs in Galicia usually prepare this soup with many ingredients in multiple pots. But at home, most Gallegos make a straightforward recipe: just one stockpot in which everything is cooked together, with the ingredients added according to the time required to cook them. When turnip greens are out of season, they use cabbage instead.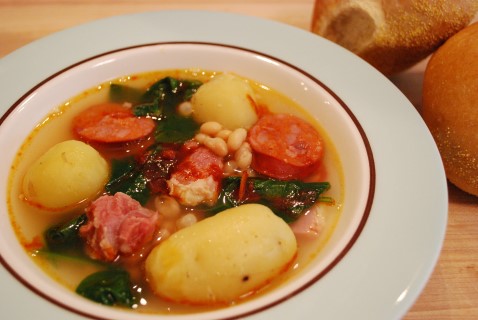 Ingredients
½ pound dried white beans 
½ pound bacon, in one piece 
1 pound turnip greens or green cabbage, chopped 
2 (3-ounce) chorizos 
1 pound boiling potatoes, peeled and cut into large chunks 
1 teaspoon salt
Preparation
You may be also interested in...
Rinse the beans in a colander under cold running water. Place in a bowl, add water to cover by 2 inches, and let soak for at least 8 hours or up to overnight.
Drain the beans, place in a stockpot, and add the bacon and water to cover by 1 inch. Bring to a boil over high heat, decrease the heat to medium-low, and cook, uncovered, for 1 hour. Add the greens and cook, stirring occasionally, for 30 minutes longer, adding water as needed to keep the beans fully covered with liquid. Add the chorizos and potatoes, season with salt, and cook for 30 minutes longer, or until the potatoes are fork-tender.
Lift the bacon and the chorizos from the pot and cut into small pieces. Divide the bacon and sausage pieces evenly among 6 warmed soup plates. Ladle the soup on top and serve immediately.
See also
Galicia recipes: Its cuisine is one of the main tourist attractions of Galicia: the exquisite delicacies of this region are based on the high quality and variety of the local products used in the preparation of dishes. Country, farm and sea products are unique in their characteristics and quality. Furthermore, it cannot be forgotten that one of the main pillars of Galician cooking is the professionalism of its experts. Galician chefs are found world-wide.
Platos de cuchara: Scores of soups and legume stews, called platos de cuchara, literally "dishes eaten with a spoon," are beloved across the country. Many of them are regional variations of national favourites, and in this section, we have included recipes that reflect that diversity.