Habas a la catalana
Habas are a traditional type of spanish bean, that catalan chefs (after their granmother's cookbook!) have turn into one of the greatest tapas nowadays!
Diners: 4
Difficulty: Intermediate
Preparation time: 40 minutes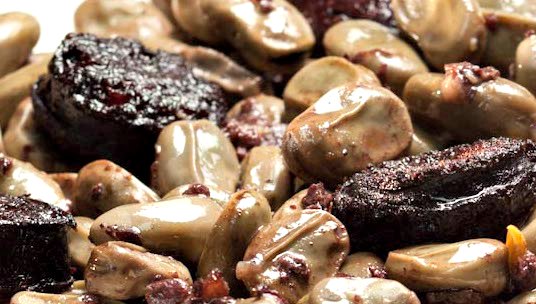 Ingredients
Preparation
Put a casserole to the fire with the olive oil, and add the fine chopped onions and half of the fresh bacon diced. When it's gilding, add a part of the Catalan sausage and all the beans, next we add him the white wine and the aromatic herbs, the rest of the bacon and of the Catalan sausage.
Season with the salt and the sugar and let it cook until the beans are tender.
Finally to add the "barreja" (mixture of anisette and muscatel).
You may be also interested in...
See also...
Catalonia Recipes: As with nearly all cultures, Catalonian cooking has great character. Its innovative cooking often looking back to history for inspiration. Although ultimately Mediterranean, Catalonia has been influenced by various cultures over the centuries: the Greeks, Romans, the Italians in the eighteenth century and the French have all left their mark on this complex cuisine. Catalonia has absorbed the best of each country and created a culinary package which forms part of the popular wisdom of the region.