Ceviche
You can use almost any firm-fleshed fish for this Spanish influenced dish, provided that it is perfectly fresh. The fish is 'cooked' by the action of the acidic lime juice. Adjust the amount of chilli according to your taste.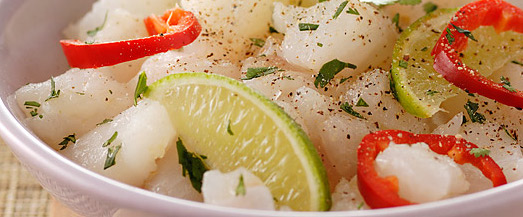 Ingredients
1 1/2 lb halibut, turbot, sea bass or salmon fillets, skinned
Juice of 3 limes
1-2 fresh red chillies, seeded and very finely chopped
1 tablespoon olive oil
Salt
For the garnish
4 large firm tomatoes, peeled, seeded and diced

1 ripe advocado, peeled and diced
1 tablespoon lemon juice
2 tablespoon olive oil
2 tablespoon fresh coriander leaves
Preparation
Cut the fish into strips measuring about 2 x 1/2 inch. Lay these in a shallow dish and pour over the lime juice, turning the fish strips to coat them all over in the juice. Cover with a clear film (plastic wrap) and leave for 1 hour.
Mix all the garnish ingredients, except the coriander, together. Set aside.

Season the fish with salt and scatter over the chillies. Drizzle with the oil, Toss the fish in the mixture, then replace the cover. Leave to marinate in the fridge for 15-30 minutes more.
To serve, divide the garnish among six plates. Spoon the ceviche, sprinkle with coriander, and serve.

You may be also interested in...
See also...
Tapas are Spain's greatest food invention. "Eat when you drink, drink when you eat" is the philosophy. Spanish men traditionally drink outside the home and rarely alone. They are not meant to be a meal (although a ración is a substantial portion). One tapa per person and a different one with each drink is the idea, then everyone enjoys tasting and sharing.
Andalusia recipes:  The Romans taught the Andalusians how to cultivate wheat and vines and used the fish from the seas to produce the best "garum" in the empire. The Arabs taught the Andalusians how to grow fruit and vegetables. They used irrigation systems and improved the cultivation of olive trees and the production of oil. Furthermore, the Greeks, Phoenicians, Carthaginians and Visigoths left their mark on the art, science, culture and gastronomy of Andalusia.