Chilled Paella Curry
This paella recipe demonstrates how the dish may successfully use nontraditional ingredients. Here, the rice is made heavier with the generous use of sour cream and mayonnaise, which in turn provide a creamy balance to the artichokes, mushrooms, and stuffed olives.
Chicken breast meat has been added for sustenance, and the dish is infused with the exotic taste of curry. Although this recipe calls for the paella to be served chilled, you may serve it warm if you prefer. The chilled paella, however, makes an excellent picnic lunch.
Serves 6
20 minutes preparation plus 35 minutes cooking
Difficulty: Medium
Ingredients
3/4 cup (6 fl. oz) olive oil
1 1/2 cups Bomba rice
3 1/4 cups (26 fl. oz) vegetable broth
1/2 teaspoon saffron
1/4 teaspoon turmeric
16 oz skinless, boneless chicken breasts, cut into chunks
1 small green bell pepper, chopped
1 cup (2 1/2 oz) sliced mushrooms
1/2 cup (4 oz) sliced pimento-stuffed olives
1/2 cup (4 fl. oz) sour cream
1/2 cup (4 fl. oz) mayonnaise
2 cups (12 oz) bottled marinated artichoke hearts, undrained
4 scallions, sliced
1 tablespoon chopped parsley
1 1/2 tablespoons, curry powder
Preparation
Heat 1/4 cup (2 fl.oz) of the olive oil in a paella pan. Pour in the rice and sauté for 5 minutes.
Add the broth, saffron, turmeric, and cook for 25 minutes or until the rice is tender and the broth has been absorbed. Set aside.
While cooking the rice, heat the remaining olive oil in a large skillet and cook the chicken until done and browned on all sides. Set aside.
Add the chicken to the paella pan with the rice, and combine with the remaining ingredients.
Refrigerate overnight and serve chilled.
You may be also interested in...
See also...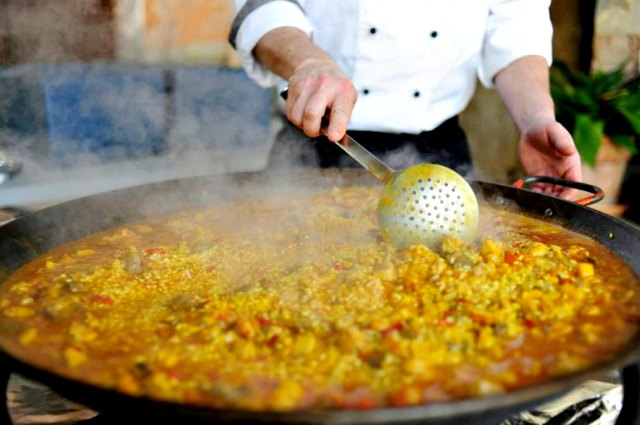 The secrets of paella: The authenticity of paella is gauged by the community it builds. What better way to enjoy your friends than to sit around the communal paella and share it together? Is that not what life is all about?