Croquetas de Jamón
Croquetas de Jamón are a common sight on bar counters and in homes across Spain, served as a tapa, light lunch, or a dinner along with a salad. The jamon serrano in this recipe could be replaced with chopped hard-boiled eggs, shredded salt cod, minced shrimp, chopped chorizo, cheese, or just about any vegetable.
Start the preparation the previous day to allow the béchamel time to set. It will make the mixture easier to handle when shaping the croquetas.
Serves 6
Difficulty: intermediate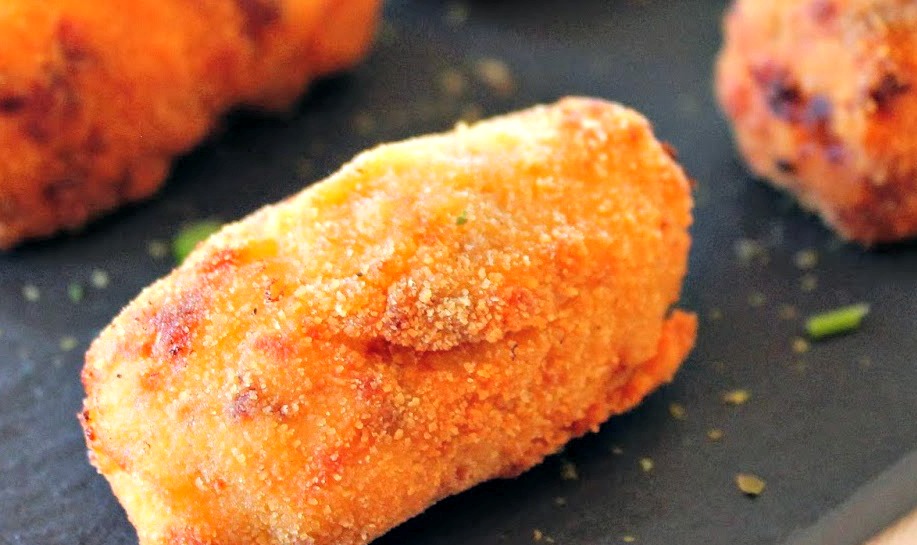 Ingredients
2 tablespoons olive oil, plus extra for deep-frying
4 tablespoons unsalted butter
3 heaping tablespoons all-purpose flour
1 1/2 cups whole milk, heated
3 ounces jamón serrano or other dry-cured ham, finely chopped
Salt
2 eggs
2 tablespoons fine dried bread crumbs
Preparation
Lightly oil a shallow 8-inch square dish.
In a saucepan, heat the 2 tablespoons olive oil and the butter over medium heat. When the butter has melted, add the flour and, using a wooden spoon or whisk, mix well. Continue to stir or whisk for about 2 minutes, or until the flour is well blended.
Add 1/2 cup of the milk and increase the heat to medium-high. Bring the mixture to a boil and add the remaining cup of milk. Cook, stirring constantly with the spoon or whisk, for about 5 minutes, or until the mixture begins to thicken. Decrease the heat to medium and cook, stirring constantly to prevent lumps from forming, for about 10 minutes, or until thickened.
Add the jamon serrano, season lightly with salt (remember, the ham is already salty), and stir until evenly distributed. Cook for 1 minute longer and then pour the contents of the pan into the prepared dish. Spread the mixture evenly. Let cool down for a bit and then cover and refrigerate for at least 2 hours, but preferably overnight to allow the mixture to set.
Break the eggs into a bowl and beat ligthly until blended. Spread the bread crumbs on a dinner plate. With 2 spoons, shape the béchamel-ham mixture into walnut-sized croquettes. Roll each croquette in the bread crumbs, shaking off any excess crumbs, and then dip into the beaten egg. Lift each croquette from the egg and roll it again in the bread crumbs, coating it evenly. Lay the croquettes in a single layer on a platter. Refrigerate for 30 minutes before frying.
Pour the olive oil to a depth of about 2 inches into a wide, deep, heavy pot and heat over high heat. When the oil is almost smoking, slip 5 or 6 croquettes into the oil, pressing on them gently with a slotted spoon to submerge them, and fry, turning them gently, for about 2 minutes, or until they are golden on all sides. Using the slotted spoon, lift out the croquettes, holding them briefly over the pot to allow the excess oil to drain, and transfer to an ovenproof platter lined with paper towels to drain further. Keep the croquettes warm in a low oven. Fry the rest of the croquettes in the same way, always making sure the oil is very hot before adding more croquettes.
When all the croquettes are fried, arrange on a platter and serve immediately.
You may be also interested in...
See also...
| | |
| --- | --- |
| Jamon: There is nothing more Spanish than jamón serrano. This country ham is a national treasure shared in Spain by all walks of life. Cured for at least a year, it has a much deeper flavor firmer texture than its closest relateive, Italian prosciutto. Serve as a 'Tapa' with cheese and olives, or in your favorite Spanish recipe | |
Tapas are Spain's greatest food invention. "Eat when you drink, drink when you eat" is the philosophy. Spanish men traditionally drink outside the home and rarely alone. They are not meant to be a meal (although a ración is a substantial portion). One tapa per person and a different one with each drink is the idea, then everyone enjoys tasting and sharing.