Tuna and Goat Cheese Empanadillas
Empanadas are crisp turnovers that can be filled with anything from ham and cheese to spinach and pine nuts, or the previous day's leftovers. Altough they are often associated with South America, empanadas originated in Spain's northwestern region of Galicia, where they remain immensely popular to this day. Empanadillas, the smaller, pocket-size versions of empanadas, are generally served as tapas, and, because no silverware is required to eat them, make perfect party food.
Serves 6 to 8
60 minutes preparation

Ingredients
Preparation
Heat the olive oil in a skillet over medium heat. Add the onion and garlic and sauté for about 5 minutes or until softened. Remove from the heat and set aside.
Using a fork, mash the tuna with the onion, garlic, goat cheese, pimento-stuffed olives, pine nuts, capers, paprika, salt, and pepper. Set aside.

On a floured surface, roll out the pastry to 1/8 inch thickness. Using a 3-inch cookie cutter, cut out as many dough circles as the dough will allow, rerolling the dough sheets if necessary. Cupping each dough round in your hand, spoon about 1 teaspoon of the filing into the center of each dough round, then brush the edges with a little water. fold the dough over the mixture to form a crescent. Pinch the edges of crescent to seal the dough closed. Use the back of a fork to further press the edges of the dough together.
You may be also interested in...
See also...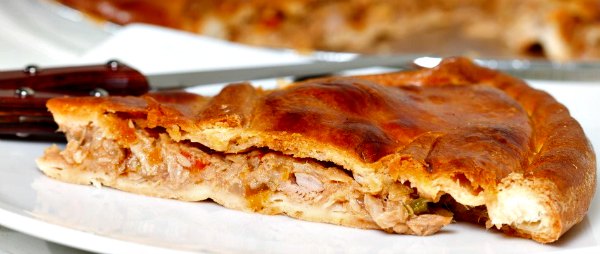 Empanadas:  bread pies stuffed with shellfish, fish or meats, are iconic of Galician cuisine. The crusts and fillings vary from place to place, and nearly every Galician family, restaurant, and tavern claims to have the secret formula for making the best version. Of the many empanadas I have tasted in this beautiful northwestern region, these ones are my favorites - their crust is consistently delicate and delicious.