Flamenquin
Thin Pork Roll with Jamon and Egg
Flamenquines are typically served as a tapa, but I most often eat them as a light dinner main course at the home of friends in the Andalusian town of Andujar, which is surrounded by beautiful sunflower fields in full bloom in September. You can also make these rolls with beef instead of pork, and some people like to add slices of cheese. Whichever ingredients you choose, these rolls are unforgettable.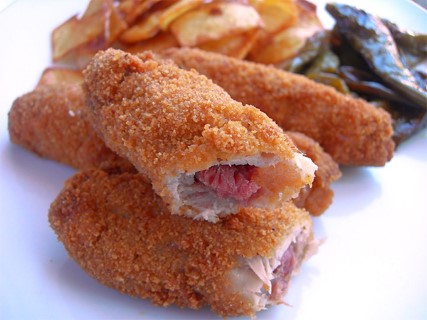 Ingredients
8 (1/4-inch-thick) pork cutlets
Salt
8 thin slices jamon
1 cup fine dried bread crumbs
3 eggs
Olive oil for frying
Preparation
One at a time, using a meat pounder, pound each pork cutlet until it is a rectagle measuring about 5 by 7 inches. Be careful not to let any holes form in the meat. Season lightly with salt (the jamon is already salty, so don't add too much).
Lay  the pork rectangles flat on a work surface, and top each with 1 jamon slice. Starting from a long side, roll up the ham-topped pork slices into cylinders about 1 inch in diameter. Pierce a toothpick along the seam of each roll to prevent it from unfolding during frying.
Spread the breadcrumbs in a wide, shallow bowl. Break the eggs into a second wide, shallow bowl and beat lightly until blended. One at a time, coat the rolls evenly with the breadcrumbs. Then dip each roll into the beaten eggs, again coating evenly. Finally, coat the rolls again with the bread crumbs.
Pour olive oil to a depth of 1 inch into a deep skillet or sauté pan and heat over high heat. When the oil is very hot but not yet smoking, add the rolls in batches and fry, turning often, for about 5 minutes, or until they are crisp and golden on all sides. Using tongs, transfer to paper towels to drain and keep warm in a low oven. Repeat with the remaining rolls.
Slice the rolls on the diagonal into 3/4-inch-thick slices and arrange in a warm platter. Serve immediately.
You may be also interested in...
See also
Andalusia recipes:  The Romans taught the Andalusians how to cultivate wheat and vines and used the fish from the seas to produce the best "garum" in the empire. The Arabs taught the Andalusians how to grow fruit and vegetables. They used irrigation systems and improved the cultivation of olive trees and the production of oil. Furthermore, the Greeks, Phoenicians, Carthaginians and Visigoths left their mark on the art, science, culture and gastronomy of Andalusia.