Fruity Sangria
This simple sangria requires some patience, but minimal effort. If served at a party, guests will delight in nibbling on the wine-flavored apple and pear chunks remaining in their cups after their sangria has vanished.
Makes 18 glasses
15 minutes preparation
Difficulty: very easy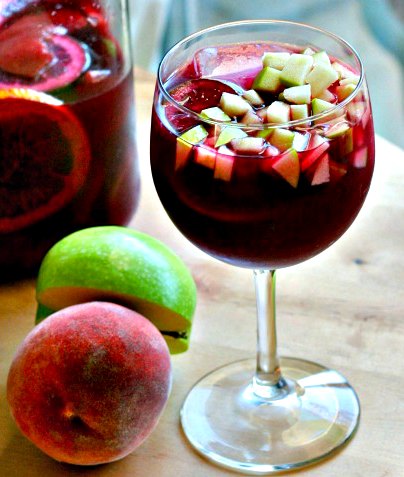 Ingredients
8 cups (64 fl. oz) dry red wine
8 cups (64 fl. oz) apple juice
1 small grapefruit, cut into eights
1 medium orange, sliced thin crosswise
1 medium lemon, sliced thin crosswise
1 small pear, diced
1 medium apple, diced
Preparation
Combine the wine, apple juice, and grapefruit pieces in a large pitcher. Mix well, cover and refrigerate overnight.
The following day, add the orange and lemon slices to the wine. Refrigerate for a further 3 hours.
Add the pear and apple to the mixture, then allow to stand for a further 1 hour to absorb the flavor fully. Mix well and serve over ice.
You may be also interested in...
See also
Andalusia recipes:  The Romans taught the Andalusians how to cultivate wheat and vines and used the fish from the seas to produce the best "garum" in the empire. The Arabs taught the Andalusians how to grow fruit and vegetables. They used irrigation systems and improved the cultivation of olive trees and the production of oil. Furthermore, the Greeks, Phoenicians, Carthaginians and Visigoths left their mark on the art, science, culture and gastronomy of Andalusia.