Gildas
Gilda means lollipop, and the classic Gilda is a simple assembly of a guindilla (Spanish chile pepper), an anchovy and an olive. The combination of good-quality pinkish anchovies, smallish, crisp, unwrinkled chillies and a freshly pitted olive produce a sophisticated mélange.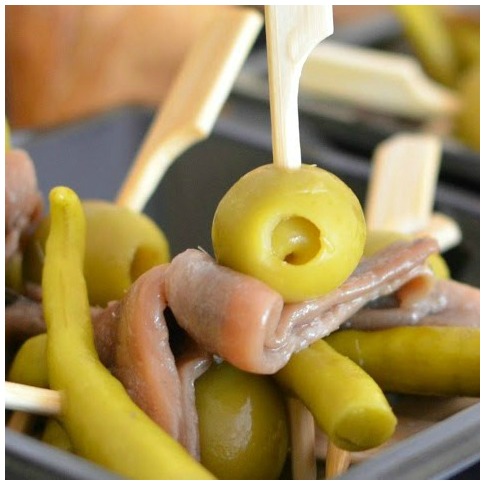 Ingredients
Preparation
Curl up each anchovy and thread it onto a cocktail stick, along with two or three guindilla chillies and an olive. Stack the gilda onto a plate and serve immediately.
You may be also interested in...
See also...
Basque Recipes: Basques live for cooking and eating. I haven't found a similar level of passion anywhere I have traveled. If we try to describe Basque cuisine, a fair answer might be that it is deeply felt, honors tradition, and respects the natural flavors of the ingredients. These qualities are on display in the significant number of dishes that are distinctively Basque. The international acclaim achieved by the new Basque cuisine movement led by Juan Mari Arzak is only the most recent example of how Basque cookery has influenced the tables of the rest of Spain and beyond
Tapas are Spain's greatest food invention. "Eat when you drink, drink when you eat" is the philosophy. Spanish men traditionally drink outside the home and rarely alone. They are not meant to be a meal (although a ración is a substantial portion). One tapa per person and a different one with each drink is the idea, then everyone enjoys tasting and sharing.