Migas
Migas -fried breadcrumbs- are a popular supper or snack at any time of the day, usually served with a fried red chorizo sausage, or with fried eggs with paprika and a little vinegar dribbled over them. This version includes some extras and can be used to stuff a chicken for roasting. Good bread and plenty of fat will produce greaseless migas.
Serves 4
Difficulty: easy
Preparation time: 20 minutes plus at least 1 hour to prepare the bread.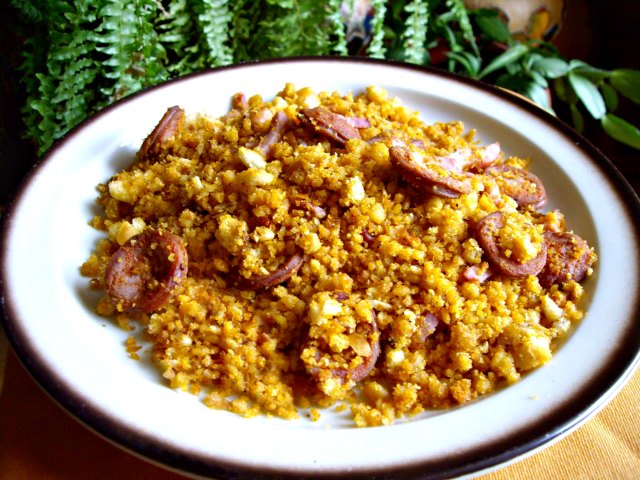 Ingredients
4 thick slices stale country bread
Salt and freshly ground black pepper
2-3 tablespoons bacon fat
2-4 tablespoons olive oil
2 garlic cloves, bruised
4 tablespoons diced jamon
1 small red pepper, seeded and diced
Preparation
Remove the crusts and cube the bread. Sprinkle with water, season with salt and pepper and wrap in a tea towel for at least an hour (traditionally overnight).
Heat the bacon fat and oil with the garlic cloves. When it smokes, discard the garlic and fry the jamon,  and pepper.
When they are done, remove them and add the cubes of bread. Cook these for 12-15 minutes, moving them constantly. When crisp, return the ham, pepper and season.
You may be also interested in...
See also...
Extremadura recipes: The Extremaduran countryside never ceases to amaze the visitor, with its dry plains, luxuriant pastures, mountains, marshes, meadows and fields.... In each area there are different products, the crops and livestock influencing the local dishes.