Mussels Vinaigrette 
Steamed mussels are dressed with a flavorful vinaigrette in this colorful tapa. It is an ideal treat for a party or any event with lots of people attending.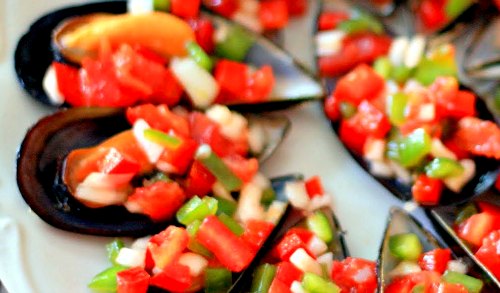 Ingredients
2 1/2 dozen mussels, scrubbed and beards removed
Shredded lettuce
2 tbsp minced green onion
2 tbsp minced green pepper
2 tbsp minced red pepper
1 tbsp chopped parsley
4 tbsp olive oil
2 tbsp vinegar or lemon juice
Dash of red pepper sauce
Salt to taste
Preparation
Steam open the mussels. Put them in a deep pan with the water. Cover the pan and put over a high heat, shaking the pan, until the shells open. Remove from heat and discard any mussels that do not open.
Mussels can also be opened in a microwave. Place them in a microwave-safe bowl, partially covered, and microwave at full power for one minute. Stir and microwave one minute more. Remove any mussels that have opened and microwave one minute more. Again remove open ones. Repeat twice more. Discard any mussels that have not opened.
When cool enough to handle, remove and discard the empty shells. (Mussels can be cooked in advance and refrigerated.) Shortly before serving, arrange mussels on a bed of shredded lettuce on a serving platter. In a bowl combine the onion, green and red pepper, parsley, oil, and vinegar. Season with red pepper sauce and salt. Spoon the mixture into the mussels in their shells.
You may be also interested in...
SEe Also...
Tapas are Spain's greatest food invention. "Eat when you drink, drink when you eat" is the philosophy. Spanish men traditionally drink outside the home and rarely alone. They are not meant to be a meal (although a ración is a substantial portion). One tapa per person and a different one with each drink is the idea, then everyone enjoys tasting and sharing.
Spanish Seafood recipes: The long coastline of Spain, combined with the two archipelagos, the Balearics and the Canaries, ensures that fresh fish and shellfish are ubiquitous elements of the Spanish table.