Paella with clams, Serrano Ham, and Chorizo Sausage
Serrano ham is so adored by the Spanish that it is often served on its own, accompanied by nothing more than a glass of sherry.
Savor it here as a flavorful accent to this scrumptious rice. If serrano ham is unavailable, the more readily available Italian prosciutto makes a good substitute.
Serves 8
25 minutes preparation + 55 minutes cooking
Difficulty: medium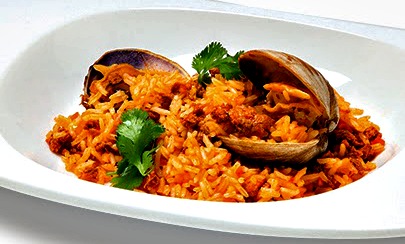 Ingredients
§1/2 cup (4 fl. oz) olive oil
1 large onion, chopped fine
4 oz chorizo sausage, crumbled and with casing removed
5 cloves garlic, minced
2 cups (18 oz) rice
1 medium red bell pepper, cut into thin strips
1 medium green bell pepper, cut into thin strips
2 large tomatoes, skinned, seeded, and chopped
4 1/4 cups (34 fl. oz) chicken broth
1/4 teaspoon powdered saffron
1/4 teaspoon turmeric
1/4 teaspoon dried oregano
One 14-oz can clams, drained
8 oz serrano ham, cut into thin strips
Salt and pepper, to taste
1 tablespoon chopped parsley
Lemon wedges, to serve
Preparation
Heat the oil in a paella pan over medium heat. Add the onion and sauté for about 5 minutes or until the onion begins to soften.
Add the garlic and cook for several minutes more. Drop in the chorizo sausage and cook for a further 5 minutes.
Mix in the bell peppers and tomatoes, reduce the heat to low, and cook for a further 10 minutes.
Stir in the rice, increase the heat to medium, and sauté for 5 minutes. Pour in the broth, turmeric, saffron, oregano, and salt and pepper to taste, and cook for about 15 minutes.
Add in the clams, ham, and parsley and cook for a further 7 minutes, or until all the liquid has been absorbed and the rice is tender.
Garnish with lemon wedges and serve.
You may be also interested in...
See also...
Which Paella pan should I use? After receiving many inquires on what are the right size and characteristics for a paella pan, we've made a bit of research, and retrieved some information on that issue. We usually use regular, 15-inches paella pan, but we've managed to find some other sizes also. So if you want to find out which paella pan size suits you best, just keep reading...