Pinchitos Morunos
Europe's first kebabs were brought by the Arabs from Africa. Pinchitos morunos are eaten everywhere in Spain as a tapa, though nowadays they are made of pork, rather than lamb.
Spices for them are sold ready-mixed in the south. I have used curry powder as part of my mixture as it contains cumin and very similar herbs.
Serves 6
Difficulty: very easy
Preparation time: 25 min. plus 2 hours marinating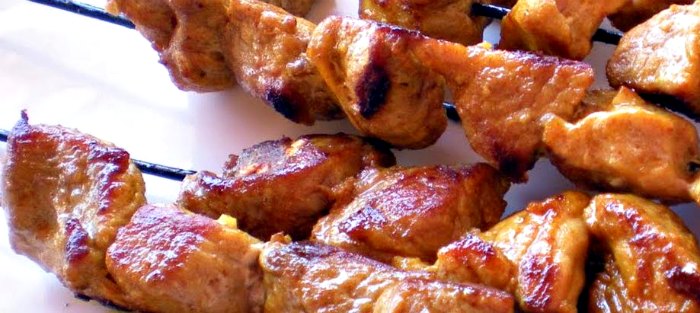 Ingredients
1 lb. lean pork, cut into small cubes
2 garlic gloves, finely chopped
2 teaspoons salt
1 teaspoon mild curry powder or pinchito spice mixture
1/2 teaspoon coriander seeds
1 teaspoon Spanish paprika
1/4 teaspoon dried thyme
Freshly ground black pepper
3 tablespoons olive oil
1 tablespoon lemon juice
Preparation
Crush the garlic with the salt in a mortar (or with the flat of a knife on a board), then work in the other ingredients.
Skewer the pork, 3-4 cubes to a small stick, and marinate them in a shallow dish with the herbs (pinchito spice, coriander, paprika, and thyme), turning so they are well coated. Leave at least a couple of hours.
Spread the pinchitos out well on a barbecue or on foil under a grill. Cook them under a high heat for about 3 minutes on each side.
You may be also interested in...
See also
Andalusia recipes:  The Romans taught the Andalusians how to cultivate wheat and vines and used the fish from the seas to produce the best "garum" in the empire. The Arabs taught the Andalusians how to grow fruit and vegetables. They used irrigation systems and improved the cultivation of olive trees and the production of oil. Furthermore, the Greeks, Phoenicians, Carthaginians and Visigoths left their mark on the art, science, culture and gastronomy of Andalusia. 
Tapas are Spain's greatest food invention. "Eat when you drink, drink when you eat" is the philosophy. Spanish men traditionally drink outside the home and rarely alone. They are not meant to be a meal (although a ración is a substantial portion). One tapa per person and a different one with each drink is the idea, then everyone enjoys tasting and sharing.