Pipirrana de Jaén
Tomato Salad of Jaén (Andalusia)
Pipirrana means "frog's piss," and I have no idea how this pleasant salad got that name. This version is from Jaén, hometown of my friend Manolo Gómez, who shared his family's recipe with me. I have tasted versions of pipirrana from other areas of Andalusia (such as the variation that follows), but I find his, which, unlike the others, calls for mayonnaise, to be the best. It is appealing summer fare, when tomatoes are at their best.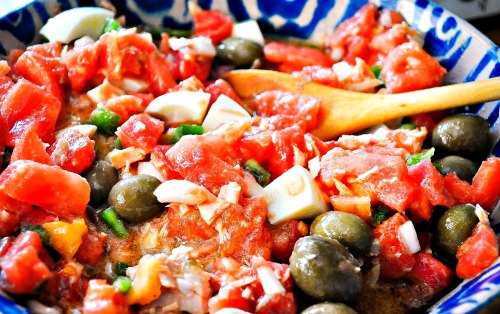 Ingredients
2 pounds tomatoes, peeled, finely chopped, and 2 tablespoons juice reserved 
½ green bell pepper, seeded and finely chopped 
1 teaspoon salt 
2 hard-boiled eggs, peeled, halved, and yolks and whites separated 
2 cloves garlic, peeled but left whole 
1 slice day-old country-style bread, broken into chunks 
3 tablespoons extra virgin olive oil 
1 tablespoon sherry vinegar 
1 tablespoon Mayonnaise 
1 (3-ounce) can white albacore tuna in olive oil, drained and flaked 

Preparation
In a large bowl, combine the tomatoes (reserve the juice), bell pepper, and salt and mix gently. Set aside.
Using a mortar and pestle, pound together the hard-boiled egg yolks, garlic, and bread until a coarse paste forms.
Add the olive oil, vinegar, and reserved tomato juice and stir with the pestle to incorporate.
Add the mayonnaise and continue to stir with the pestle— always in the same direction to prevent the dressing from breaking— until the dressing has the texture of a creamy paste.
Add the dressing to the bowl holding the tomatoes and bell pepper and mix well.
Cover and refrigerate for at least 1 hour, or until chilled.
Finely chop the egg whites. Divide the salad among 6 plates and sprinkle evenly with the egg whites and tuna. Serve chilled

You may be also interested in...
See also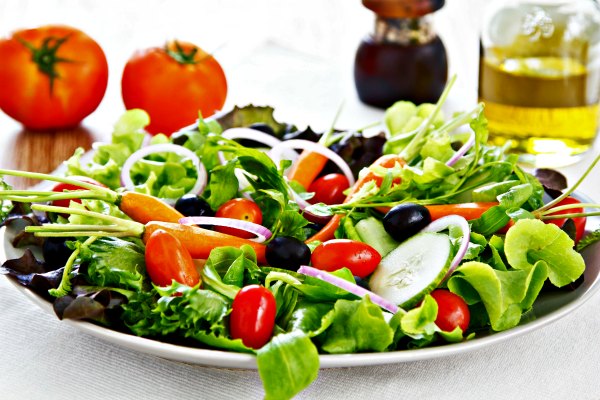 Spanish Salads: During the hot summer months, Spaniards look forward to their cuisine's rich array of cold soups and salads. Salads range from uncomplicated combinations to more elaborate compositions. With the exception of the seasoned lettuce or escarole leaves that usually accompany roasted lamb or goat, salads are served before the main course
Andalusia recipes:  The Romans taught the Andalusians how to cultivate wheat and vines and used the fish from the seas to produce the best "garum" in the empire. The Arabs taught the Andalusians how to grow fruit and vegetables. They used irrigation systems and improved the cultivation of olive trees and the production of oil. Furthermore, the Greeks, Phoenicians, Carthaginians and Visigoths left their mark on the art, science, culture and gastronomy of Andalusia.