Rice-Stuffed Peppers
The rice to fill these stuffed peppers, which are typical of the mountain towns of Alcoy and Bocairent, cooks in the sweet juices from the tomato and pepper.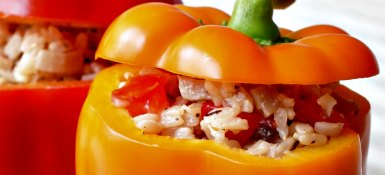 Ingredients
1 lb 2 oz short-grained Spanish Rice, such as Bomba or Calasparra

2-3 tablespoons olive oil

4 large red peppers
1 small red pepper, chopped
1/2 onion, chopped
1/2 tomato, skinned and chopped
5 oz minced / chopped pork or 3 oz salt cod
Chopped fresh parsley
Salt
Preparation
Cut off the stem ends of the peppers, keeping them as lids to replace later, and scrape out the inner membranes with a teaspoon.
Heat the oil, sauté the red pepper slowly until it is tender and remove. Fry the onion until tender, add the meat and brown it lightly, adding the tomato after a few minutes, then put back the cooked pepper, and stir in the raw rice, saffron and parsley. Salt to taste.
Fill the peppers carefully and lay them on their side in an ovenproof dish, being careful the filling doesn't fall out (you can wrap them in tinfoil to help hold them together). Cover the dish and put it in a hot oven for about 1 1/2 hours. The rice cooks in the juices from the tomato and pepper. If the peppers are thin-skinned, you may need to add a little stock towards the end of the cooking time.
You may be also interested in...
See also...
Valencia recipes: The incredible variety of rice dishes and desserts is outstanding. All this without forgetting the great variety of fruit which the Region of Valencia produces in abundance. Its traditional soft drinks have also become well-known, such as tiger nut milk ("horchata de chufa"). Its long wine-growing tradition has given rise to a delicious range of wines with their Denominations of Origin, which when added to the local soups comprise some of the most exquisite recipes of Valencian cooking.