Sauteed Swiss Chard with Raisins and Pine Nuts
In Catalonia, this is an everyday first course, with spinach sometimes standing in for the Swiss chard. Cooks in the Balearic Islands combine these same ingredients to make the filling for cocarrois, their traditional vegetable turnovers. The Spanish ham can be left out, since the original recipe is strictly vegetarian, but it gives the dish greater complexity.
Serves 6
Difficulty: very easy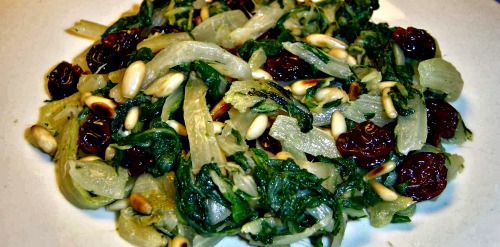 Ingredients
2 cups water
1 1/2 teaspoons salt
2 pounds Swiss chard, stems removed and leaves coarsely chopped
1/4 cup olive oil
1 slice spanish ham, finely diced
1/4 cup pine nuts
1/4 cup raisins, soaked in hot water to cover 1 hour to soften and drained
Preparation
In a large saucepan, bring the water to a boil over high heat. Add the salt and the Swiss chard, cover, and cook for 15 minutes, or until tender. Drain the chard in a colander, pressing on it firmly with the back of a spoon to remove any excess liquid.
In a skillet, heat the olive oil over high heat. Add the spanish ham, and sauté, stirring, for 1 to 2 minutes to color lightly. Add the pine nuts, stir well, and then add the Swiss chard and the raisins, again mixing well. Cook briefly, stirring, until all the ingredients are heated through.
Serve immediately, o remove from heat, set aside, and reheat later just before serving.
You may be also interested in...
See also...
| | |
| --- | --- |
| Jamon: There is nothing more Spanish than jamón serrano. This country ham is a national treasure shared in Spain by all walks of life. Cured for at least a year, it has a much deeper flavor firmer texture than its closest relateive, Italian prosciutto. Serve as a 'Tapa' with cheese and olives, or in your favorite Spanish recipe | |
Catalonia Recipes: As with nearly all cultures, Catalonian cooking has great character. Its innovative cooking often looking back to history for inspiration. Although ultimately Mediterranean, Catalonia has been influenced by various cultures over the centuries: the Greeks, Romans, the Italians in the eighteenth century and the French have all left their mark on this complex cuisine. Catalonia has absorbed the best of each country and created a culinary package which forms part of the popular wisdom of the region.