Sopa de Picadillo
Consommé with Hard-Boiled Eggs, Jamón Serrano, and Mint
I never tire of eating this simple delight. When I am preparing stock specifically for this soup, I usually reserve a chicken breast to simmer, shred, and add to the pot. If you are using homemade frozen stock or store-bought stock, it is fine to omit the chicken breast.
Serves 4 as a first course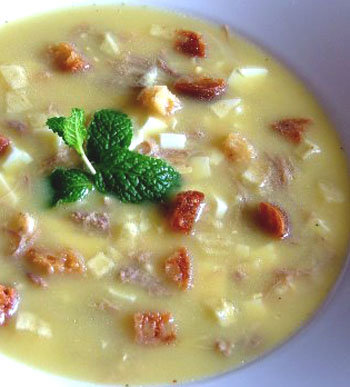 Ingredients
5 cups Chicken Stock 
1 (¼-inch-thick) slice jamón,  about 3 ounces, finely diced 
1 (4-ounce) boneless, skinless chicken breast, boiled and finely shredded (optional) 
2 hard-boiled eggs, peeled and finely chopped 
¼ cup dry sherry 
1 tablespoon chopped fresh mint
Preparation
In a large saucepan, bring the stock to a boil over high heat. Add all the ingredients, cook for 2 minutes, and serve immediately.
You may be also interested in...
See also
Sopa de ajo (garlic soup): Bread and garlic soups are eaten for supper by the poor all over the country. This garlic soup is fortified with eggs and canned tuna, which I suspect has come to replace the traditional salt cod.
Andalusia recipes:  The Romans taught the Andalusians how to cultivate wheat and vines and used the fish from the seas to produce the best "garum" in the empire. The Arabs taught the Andalusians how to grow fruit and vegetables. They used irrigation systems and improved the cultivation of olive trees and the production of oil. Furthermore, the Greeks, Phoenicians, Carthaginians and Visigoths left their mark on the art, science, culture and gastronomy of Andalusia.