SPAIN, A GASTRONOMIC PRIVILEGE (2)
ACORN-FED IBERIAN CURED HAM
Unique in the world, the Iberian pig breed provides the best meat to make salted and cured products, among which we must point out acorn-fed Iberian cured ham, an authentic culinary work or art, the most delicious and aromatic, which is able - with only one small shaving, although it is always advisable to have several - to fill our mouth with unforgettable sensations, very unlike those that we can get from any other ham

| | |
| --- | --- |
| Jamon: There is nothing more Spanish than jamón serrano. This country ham is a national treasure shared in Spain by all walks of life. Cured for at least a year, it has a much deeper flavor firmer texture than its closest relateive, Italian prosciutto. Serve as a 'Tapa' with cheese and olives, or in your favorite Spanish recipe | |
EXCEPTIONAL GAME MEATS
In Spain there are numerous game species, the best ones from the gastronomic point of view. In addition, we cook their meat using our select ancestral recipes, which are famous in European gastronomy, such as the recipes described to be "a la mode d'Alcantara" and the ones used to prepare other innovative dishes, which will surprise those who try them for the first time.
THE BEST AND MOST VARIED POPULAR CUISINE
Popular cuisine has artfully managed to bring out the best of the local ingredients, making up a cuisine in which simple, yet succulent dishes are the rule, all with excellent nutritional content, like cocido (meat, potato and chickpea stew), fabada (Asturian bean stew), and paella (Spanish rice dish), as well as all the different dishes that take their names from the pots they are cooked in, like marmitas, potes, pucheros and peroles and others like Spanish omelette and gazpacho (a cold vegetable soup), which in spite of their simplicity, are true gems of world cuisine.

Paella
Paella , the best known of all Spanish recipes, is different from other rice dishes because to make it all the ingredients are cooked together, allowing the rice to absorb every flavour, so that each grain contains the essence of the dish.
There are many different types of paella , yet when it comes to choosing, have either a meat paella (chicken, rabbit, duck) or a seafood one, and avoid the mixed kinds. Unforgettable: arroz a banda.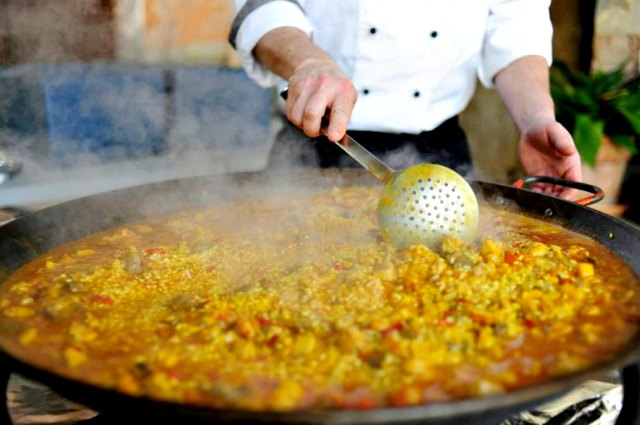 The secrets of paella: The authenticity of paella is gauged by the community it builds. What better way to enjoy your friends than to sit around the communal paella and share it together? Is that not what life is all about?
You may be also interested in...